Green lacewings are beneficial insects that eat aphids, caterpillars, and other soft bodied pests as larvae.  The adults feed on nectar and pollen and the occasional aphid or mite that they come across.  Green lacewings are green, with delicate wings that look like lace because of the almost invisible membrane crossed by veins.  They have prominent golden eyes.  The larvae are long and brown and often covered with the carcasses of the aphids and other animals they have eaten as camouflage against birds.
While green lacewings are sold as eggs by some beneficial insects suppliers, the best way to ensure a ready supply is by planting things that lacewings like to eat and shelter on, such as calliopsis (Coreopsis), cosmos (Cosmos), sunflowers (Helianthus) and dandelion (Taraxacum) – and Apiaceae such as dill (Anethum) or angelica (Angelica).  Planting these flowers in amongst your vegetables will bring lacewings naturally to your garden.  The adult lacewing lays 100-200 eggs, each on slender stalks, on plants where there is a lot of prey, such as aphids.  The eggs hatch, the young moults, then climbs down the stalk and goes to work.  The larvae will eat anything they stumble upon, including each other.  The larvae also bite humans, so keep your hands out of their way.  They are often called aphidlions because of this biting habit.  It takes two to three weeks for the larvae to pupate, then they shortly emerge as adults. There are five or six overlapping generations each season.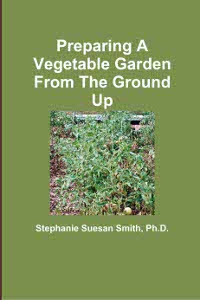 For more help gardening, buy my book, Preparing A Vegetable Garden From The Ground Up

Available in print or ebook from Amazon.com or other retailers, this book walks you from choosing the site of your garden all the way through what to do after the harvest. Buy a copy for yourself or a friend today!
---