You are probably asking yourself what GRO1000 is and why it is coming to Houston. GRO1000 is a commitment by Scots Miracle-Go, Garden Writers Association, Plant A Row For The Hungry, Keep America Beautiful, the National Gardening Association, and Franklin Park Conservatory to develop and install 1,000 community gardens and green spaces in the U.S., Canada, and Europe by 2018. These gardens grow food that is shared between the people maintaining the garden and a local soup kitchen. Many of the gardens are at inner city locations and are used to develop a connection between children and nature.
In Houston, the garden is being dedicated at Piney Point Elementary promptly at 11:00 a.m on Thursday, April 7, 2011. More than 500 students will attend, as well as their parents, community volunteers, school staff, and local and national officials. The gardens will include edible gardens, a prairie garden, a butterfly garden, rain gardens and bird habitats.
During the dedication and into the afternoon, students will participate in a variety of interactive education stations under the direction of horticulturist Bill Dawson of Franklin Park Conservatory in Columbus, Ohio. Scotts Miracle-Gro will present their "Give Back to Gro" National Youth Gardener Award to a Piney Point student who has demonstrated an interest and passion for their community through environmental stewardship. The City of Houston will present a community garden proclamation to Scotts Miracle-Gro. Finally, a grant check will be presented to Keep Houston Beautiful by Scotts Miracle-Gro.
Whew, sounds like a busy day. The edible portion of the garden will be shared with Memorial Drive Presbyterian Church. Not only will the students and their families benefit from the garden, the people who visit the Memorial Drive Presbyterian Church for help will eat better. Sounds like a win-win for everyone. If you are in Houston, go watch at Piney Point Elementary School, 8921 Pagewood Lane, Houston, Texas 77063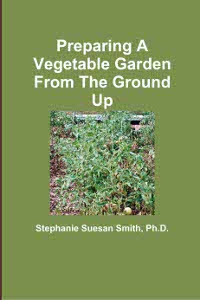 For more help gardening, buy my book, Preparing A Vegetable Garden From The Ground Up

Available in print or ebook from Amazon.com or other retailers, this book walks you from choosing the site of your garden all the way through what to do after the harvest. Buy a copy for yourself or a friend today!
---