Anise is not one of the most popular herbs in the garden, but is interesting none the less.  It tastes like licorice, so if that is not a flavor you like, pass it by.  Anise is an annual, so needs to be planted every year.
Sow directly in the garden after all danger of frost has passed.  Give this plant plenty of room as it will grow about two feet tall.  Thin the seedlings to about one every 18 inches when they have two true leaves.  The tall fern like plant will have lots of flowers if treated well.
Water and fertilize normally.  This plant is originally from the Mediterranean, where it has been cultivated for hundreds of years.  Pliny and Theophrastus mention the plant.  Now it is cultivated widely.
The leaves, flowers, and seeds have a licorice taste and are harvested for use in flavoring breads and other foods.  The seeds are harvested just before they are completely ripe.  This is where the essential oils concentrate.
Anise, like licorice, can raise the blood pressure, so be cautious when using this herb.  If you bake a lot of sweets, however, you may wish to grow this herb to flavor them.  The seeds can be soaked in vodka and the resulting liquid used sparingly as the flavoring agent.  Alternatively, you can take the seeds and dry sugar and store them together in a tightly closed container and the oils will penetrate the sugar and flavor that.  You can then add the flavored sugar to your treats.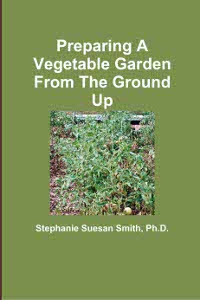 For more help gardening, buy my book, Preparing A Vegetable Garden From The Ground Up

Available in print or ebook from Amazon.com or other retailers, this book walks you from choosing the site of your garden all the way through what to do after the harvest. Buy a copy for yourself or a friend today!
---