Basil is an herb often used in Italian cooking.  Actually, it is used in many different kinds of cooking through out Asia in addition to Europe.  Because "basil"is thought to be derived from the Greek word basilikon, which means "royal" or "king," basil is often referred to as the "king of herbs."
In addition to its culinary uses, basil was considered an antidote to the venom of the basilisk.  In the early 1600s, the English used basil in their food and in doorways to ward off evil spirits and flies.  Used in the bath, it was a mild sedative.
We now have a dirth of basilisks and have other things to use as a sedative, so basil is used primarily as a food additive.  It blends well with tomatoes, hence its' use in Italian food.  Purple basil adds color and spice to salads.
To grow basil, you must have a place in the sun.  Basil will grow in a window box, but is more fragrant and has more essential oils when grown outdoors.  Leaves and stems may be continuously pruned if light applications of a fertilizer such as a 5-10-5 are added periodically.  Add too much fertilizer, though, and your basil tastes like fertilizer.
Basil can be grown from seeds or plants bought at the nursery.  If you plant outside, make sure you wait until all danger of frost has passed and the temperatures are above 50 degrees F.  Sow seeds in a 1/4 inch trench, then cover.  Thin seedlings to about every 12 inches.  In about 70 to 80 days, it is mature.
For maximum flavor, harvest basil when the buds are formed but before they open.  If you are going to make vinegar with the basil, wait until the flowers bloom and harvest them, too.  They add color to the vinegar.  Do not let the seeds form, however, as that takes much of the flavor from the leaves.
Gather basil on a dry day after the dew dries.  Morning is best before the temperature rises.  Then you lay them on window screens or drying racks and allow them to dry.  The old method of tying them in bunches and hanging them from the rafters has fallen out of favor.  On screens, you can cover the leaves with cheese cloth or other loosely woven cloth that will keep the dust and bugs off the leaves but allow the air to circulate around them.
When the basil is completely dry and brittle, but before it turns brown, it is done.  Place the leaves in an airtight jar as soon as the basil reaches this state.  If you have dark colored bottles, these are best because they keep the herbs from deteriorating so much.
Alternatively, you can chop fresh basil into small pieces, place in an ice cube tray, and cover with water.  Freeze the tray until the water is frozen solid.  Pop the ice cubes out of the tray and place in a zip lock bag.  Repeat until all your basil is frozen in convenient ice cube sized servings.  When you need some, just thaw enough ice cubes to get the amount of basil you need.
Basil has a rich culinary history and is fairly easy to grow.  Be sure to include some in your garden next spring.  What other herbs do you use in cooking?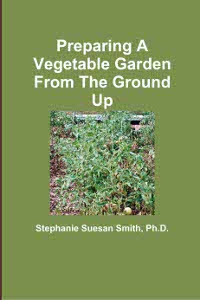 For more help gardening, buy my book, Preparing A Vegetable Garden From The Ground Up

Available in print or ebook from Amazon.com or other retailers, this book walks you from choosing the site of your garden all the way through what to do after the harvest. Buy a copy for yourself or a friend today!
---