Broccoli is usually grown from transplanted plants rather than seed.  This is because it does not tolerate hot temperatures and will bolt, or bloom, when it gets warm.  Once it does, the broccoli becomes inedible.
Transplants can usually be obtained from a nursery or feed store in your area.  They are put out about a month before the last freeze date.  In my area, we plant them the first week of February.
Before planting your broccoli, work about 5 pounds of 5-10-10 fertilizer per hundred square feet into the soil.  This should be done about a week before planting.  Set your plants 18 inches apart.  The rows should be 30 inches apart.
A starter solution of one cup of 5-10-10 fertilizer per 12 quarts of water should be used to water in the plants.  This will help get them growing.  During the growing season, side dress nitrogen at the rate of one tablespoon per plant about three weeks after they are planted.  Do this again in two weeks, then two weeks more, for a total of three nitrogen applications.
If you cut the broccoli head off as soon as it is big enough to eat, the broccoli plant will often make some shoots to the side that are also good to eat.  They are not as big as the main head, but are nice for salads or dip.
Broccoli are vulnerable to root maggots, club root, and worms in the broccoli head.  Consult your Extension Agent for control methods.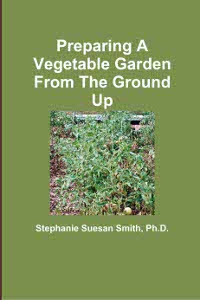 For more help gardening, buy my book, Preparing A Vegetable Garden From The Ground Up

Available in print or ebook from Amazon.com or other retailers, this book walks you from choosing the site of your garden all the way through what to do after the harvest. Buy a copy for yourself or a friend today!
---