Cauliflower likes cool weather, so it does not grow too well in Texas.  We can grow it in the spring some years, but usually it bolts when the weather gets warm and we never get a bite.  The chances of a crop are better in the fall, when the plant grows in the heat but flowers in the cooler weather.  Other places, further north, manage to grow quite a lot of cauliflower, however.  If you are interested in trying, here are some things to remember.
First, forget about trying to grow cauliflower from seed.  It is almost always grown from a transplant grown in a greenhouse by experts.  The seed is very cranky about temperature and spacing.  Plant seed 1/2 to 3/4 inches deep in rows 3 to 6 inches apart.  Place seed about 2 to 3 inches apart.  You can use almost any growing medium, but the seed must be kept warm and moist or it will not grow.
Cauliflower likes slightly acid or neutral soil with lots of moisture and organic matter.  It requires a lot of trace elements such as boron and magnesium as well as lots of nitrogen, potassium, and phosphate.  Testing your soil and adjusting your fertilizer to fit the plant's needs is a must if you want to get this to grow and produce well.
In addition to being a heavy feeder, cauliflower is very sensitive to lack of moisture, so irrigation is a necessity.  The same insects and diseases that attack cabbages and the other cole vegetables attack cauliflower.  It is important not to grow cauliflower in ground other cole crops have been grown in for the last two years.
Cauliflowers will turn yellow and develop an off flavor in the sun.  When the flower head is young, the inner leaves protect it from the sun.  As the cauliflower grows, the leaves are forced aside and the head turns yellow.  When the head is about 2-3 inches wide, you must tie the outer leaves over the head.  In 2-3 days after that, the head may be ready.  If the weather is cool, it may be as long as 21 days, so you end up checking the heads and retying the leaves a lot.
When the heads are about 6 inches in diameter, they should be cut with a sharp knife.  Refrigerate the heads immediately so they do not spoil.  They do not keep long once harvested so eat, pickle, or can as soon as possible.
This post has been submitted to the "How to Find Great Plants" monthly carnival.  Look for it there and learn about other plants, too.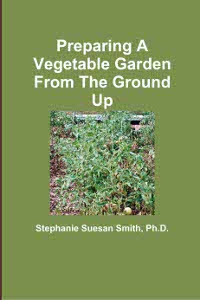 For more help gardening, buy my book, Preparing A Vegetable Garden From The Ground Up

Available in print or ebook from Amazon.com or other retailers, this book walks you from choosing the site of your garden all the way through what to do after the harvest. Buy a copy for yourself or a friend today!
---