Artisans are using gourds in many crafts these days.  Some of the work is gorgeous.  It is often very expensive.  You can grow your own gourds, though, and either sell them to artisans or use them to make things yourself.
Growing gourds takes some planning.  They take anywhere from 100 days to 140 days.  Since they cannot be planted until all danger of frost has past, that means you plant them in mid April (in north central Texas) and harvest them in September or October.  You have to put them someplace you can water them and leave them in the ground that long.
To plant gourds, you need some space.  Large gourds need to be planted in mounds that are four feet apart in rows that are eight feet apart.  They really spread.  Smaller gourds need to be trellised or caged so the gourd hangs off of the ground.
Before planting, gourd seeds need to be soaked overnight in water.  You then plant them in a mound of dirt.  You plant the seeds one and a half times the length of the seed.  Gourds have a relatively low germination rate, between 60-80%, so put two or three seeds in each mound.  If more than one plant comes up, pick the healthiest one and pinch off the other plants in the mound.  Do not pull them, as you may damage the roots of the plant you want.
Gourds take a long time to germinate, as well.  While most plants come up in a week or two, it may be six weeks before a gourd plant emerges from the seeds.  Just be patient and it will eventually show up.
Gourds cross pollinate easily.  If you buy "field grown"  seeds, you get some of what you think you are buying and some of whatever blew in on the wind.  If you want to be sure you are getting just the gourd you want, buy "pure seed."  The American Gourd Society is a good source of growers who specialize in pure seed.
Gourds need a lot of water to grow.  This is especially true when they are just getting started.  Keep the soil moist all the time for these plants.  Assuming you plant your gourds in mid April, back off of the heavy watering in August.  In September or October, when the gourds are mature, stop watering at all.
Do not harvest the gourds until the stems and tendrils are brown.  When you cut them, be sure and leave two or three inches of stem.  It looks better, serves as a handle, and keeps from damaging the gourd.
Gourds need to be dried before use.  You can leave them on the vine to do that, or you can put them in a dry place where the air circulates.  It takes anywhere from one to six months for them to dry.  When dry, the gourd should be light and the seeds rattle when the gourd is shaken.  It is normal for a layer of mold to form on the gourd during the drying process.  Leave it there for now.
When the gourds are good and dried out, then you scrub off the mold.  It comes off easier if you soak the gourd for a while, or wrap it in a wet towel.  You can use a metal scrubber or a dish scrubber.  After the mold is off, let the gourd dry again for a day or two.
Finally, you need to clean the pulp and seeds out of the gourd.  Some of these are toxic and since they are dry, they can be breathed in as dust.  That means you need to wear one of those dust masks to do this step.
Cleaning out the pulp and seeds can be hard.  You need to cut an opening in the gourd big enough to do this but where it will not effect what you are using the gourd for.  Then a spoon and elbow grease come into play.
When the gourd is clean inside and out, it is ready to use for crafts, birdhouses, or just decoration.  Enjoy.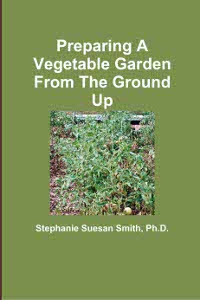 For more help gardening, buy my book, Preparing A Vegetable Garden From The Ground Up

Available in print or ebook from Amazon.com or other retailers, this book walks you from choosing the site of your garden all the way through what to do after the harvest. Buy a copy for yourself or a friend today!
---