Americans eat about 125 pounds of potatoes a year.  With rising food prices, growing them yourself makes sense.  Irish potatoes come in red, white, yellow, and russet.  There are specialty potatoes that are blue or other colors, but they are still planted like Irish potatoes.
Irish potato is a misnomer.  All potatoes come from the New World.  They were exported by the Spanish and English, but they started out here.  In any case, potatoes need full sun and loose soil.  Be sure to prepare your vegetable bed by tilling it and putting in compost.
To grow potatoes, you will have to make raised hills that are about 10-12 inches high and 36 inches apart.  The width of the hill should be about 10-12 inches.  You then compact the hill to about 6-8 inches high.  On each edge of the hill, open a trench four inches deep.  Sprinkle about two cups of fertilizer per 30 feet in each trench, then cover the trench over.  The potatoes are planted between the bands of fertilizer.
Irish potatoes are not grown from seed.  They are grown from seed potatoes.  Do not try to use potatoes from the grocery store.  They have been treated to make sprouting harder.  Buy good quality seed potatoes.
Once you have the seed potatoes, cut them into pieces, with each piece having a good eye, or bud, in it.  The pieces should be about the size of a medium hen egg.  Do this 5-6 days before planting, then spread the pieces out in a well ventilated spot so the cut parts seal.  Otherwise, they will rot when planted.
Spring potatoes should be planted about three weeks before the last frost date in your area.  In my part of Texas, we plant them on February 14th.  Fall potatoes should be planted 110 days before the first frost date.  Mid August is when we plant them here.
To plant the potato pieces, open a trench about 3 inches down the hill you have made, between the bands of fertilizer.  Cover the potatoes no more than 3 inches deep, or they will not be able to break through the soil before starving to death.  As usual, water in the potatoes right after planting them.
When the potatoes are 6-8 inches tall, spread about one cup of fertilizer for each 30 feet of row.  Be sure to water it in.  Watering is important.  If the potatoes are not kept moist, they will not grow right.  If they are too wet, they will rot when you store them.    Water one inch at a time two or three times a week and keep the soil moist, but not squishy.
As the potatoes grow, you must mulch around the plant to keep the potatoes out of the sunlight.  Keep piling it on as the plant grows so that only the plant is above the mulch.  This will not only make sure your potatoes do not turn green in the sunlight, it will keep them cleaner than if they stayed in the dirt.
Potato plants will flower and may have fruit.  Do not eat the fruit.  Even though it looks like a tomato, it is not edible.  Only the potato is edible.
Potatoes are ready to harvest when the plant begins to die and the potoato is firm.  Dig potatoes by using a shovel or spading fork.  Dig 8-10 inches from the plant to avoid damaging the potatoes.  Each plant can have multiple potatoes.  Be gentle when pulling the potatoes from the plant as you can bruise the potato if you are rough.  Then it will rot in storage.
Potatoes should be allowed to dry from the soil moisture, then stored in a cool spot with good air movement.  Do not wash the potatoes until you are ready to eat them.  You can compost the potato tops after all the potatoes are removed from them.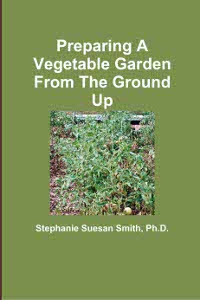 For more help gardening, buy my book, Preparing A Vegetable Garden From The Ground Up

Available in print or ebook from Amazon.com or other retailers, this book walks you from choosing the site of your garden all the way through what to do after the harvest. Buy a copy for yourself or a friend today!
---