Regular readers of this blog probably suspect I am a nerd.  After I admit to watching the 2011 Pumpkin Chunkin® contest, you will be sure that I am a nerd. One thing that disappointed me was that these were more metal cranes than catapults. The other thing I noticed is that most of the pumpkins were not the normal, orange pumpkins with pronounced ribs. Most teams shoot cold white spheres that look like big white balls instead of any pumpkin I have seen.
It turns out that the rules allow any species of pumpkin to be shot and most teams chose the densest, smoothest, pumpkin species they can. It would appear most chose white pumpkins, probably Lumina pumpkins. These albino pumpkins are about ten pounds, 8-10 inches across, and good for pies, carving, and tossing out of air cannons. If your air cannon needs some ammo, here is the information you need to grow your own:
when to plant: after all hint of frost, around March 25 to April 20 in the spring, or June 15-July 15 in the summer (optimal for chunkin season)
depth of planting: on hills about 4-6 inches high, one inch deep on the top of hill, plant 3-4 sees
spacing of plants inside row: when seeds come up, thin to one strong vine per hill, with hills 2-3 feet apart in the row
spacing of rows: 6-8 feet apart
time to harvest: 80-90 days
fertilizing:  10 pounds of 10-10-10 per 100 feet of row should be worked into the soil before planting, then 1 pound 13-0-44 per 100 ft of row side dressed at 3 and 6 weeks.
cultivars for Hunt County:
Large
Aladdin 110
Connecticut Field 120
Fairytale 125
Magic Lantern 110
Merlin 120
Prizewinner 120
Small
Jack Be Little 95
Munchkin 100
Mystic 100
Small Sugar 95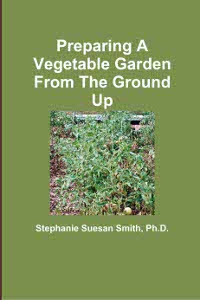 For more help gardening, buy my book, Preparing A Vegetable Garden From The Ground Up

Available in print or ebook from Amazon.com or other retailers, this book walks you from choosing the site of your garden all the way through what to do after the harvest. Buy a copy for yourself or a friend today!
---