Rosemary (Rosmarinus officinalis) is one of the staple herbs for the kitchen.  There are two main varieties of Rosemary:  creeping and upright.  Both need some room in the garden, but being able to cook with rosemary that has just been clipped from your plant makes you realize how much less flavor dried rosemary has.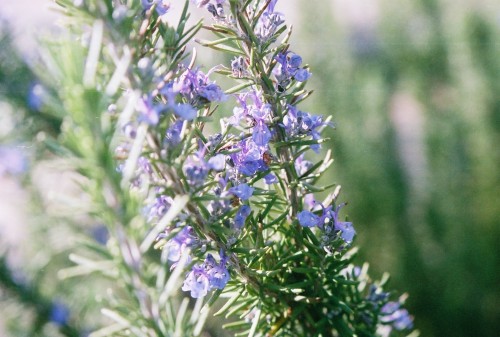 Rosemary is from the Mediterranean region and is hardy to about 10 degrees F if the cold comes in gradually and the plant has time to get used to it.  You can also grow rosemary in a container and bring it indoors for the winter.  In either case, rosemary grows poorly from seed so it is necessary to buy the plant from a nursery or take a cutting from a friend's plant and root it.
Plants should be put in well drained soil and watered every 3-5 days the first year, weekly after that.  Overwatering makes the plant woody.  Rosemary plants can reach six feet if allowed to, but the typical hieght is more along the lines of 3-4 feet.
Most rosemary has blue blossoms.  There are plants with white or pink blossoms but they are more popular in Europe.  They also do not appear to be as hardy as the plants with blue blossoms.
Rosemary plants are susceptible to whitefly, scale, mealybug, and  powdery mildew.  Over watering will increase the chance of powdery mildew.  Rosemary is drought tolerant after it is established.  It attracts bees, butterflies, and birds with its' fragrant flowers.
If you are using rosemary in the kitchen, your plant should be regularly pruned to keep the essential oils high in the tips of the plant.  You can dry the harvested clippings then store them in a jar.  They will still be much fresher than what you get in the grocery store.
If the growing conditions for rosemary are ideal, you do not need to fertilize it.  However, a yearly dose of fish emulsion will make it happy.  Do remember, however, that fertilizing it will make it grow a lot.  Make sure when you plant rosemary it will have plenty of room to grow up and out.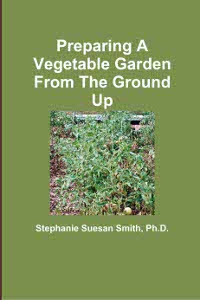 For more help gardening, buy my book, Preparing A Vegetable Garden From The Ground Up

Available in print or ebook from Amazon.com or other retailers, this book walks you from choosing the site of your garden all the way through what to do after the harvest. Buy a copy for yourself or a friend today!
---