Sage (Salvia officinalis) is native to both North America and Europe.  It is a wonderful addition to any kitchen garden and is easily grown once established.  Sage can be grown from seed or propagated from cuttings, but is slow growing and cranky about getting started.  It is easier to buy a plant from the nursery.  The disadvantage of that is that you do not know if it was grown organically or not.
Sage is a shrub, so needs room to grow.  There are over 700 varieties, so there is plenty to choose from.  Common sage has grayish green leaves and is an evergreen perennial.  The first year you grow it, you need to harvest it only lightly so it can get established.
If you choose to grow sage from seed, it is best to start it indoors about eight weeks before the last frost in your area.  When you plant your tomato seeds, you should plant your sage as well.  Transplant after all danger of frost has passed.  Place sage plants far enough apart to let them have room to grow.  Remember that a sage shrub can grow to be three feet across, so they need a lot of room.
Sage, like most plants, prefers sandy loam to grow in.  It will grow, however, in other soil types.  It is best to plant it in a sunny location where the ground has been tilled to a depth of six inches, then had three inches of compost worked in.  After transplanting, water in the plants then surround with three inches of mulch.
The first year, water twice a week and put an inch of water on the plant each time.  After that, you can water once a week.  Do not over water, as it can cause damping off and powdery mildew.  Sage is also susceptible to mealy bugs, white flies, and spider mites.
To harvest sage, simply clip off some leaves when you need them.  You can also cut more and dry it for use at a later time.   It is best to harvest your leaves before the sage plant blooms for the year.  After about four years, the shrub starts doing poorly, so it is time to either take some of your cuttings and root them, or start over from seed.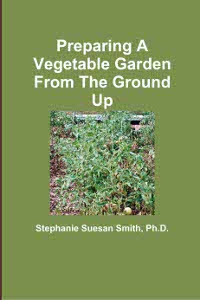 For more help gardening, buy my book, Preparing A Vegetable Garden From The Ground Up

Available in print or ebook from Amazon.com or other retailers, this book walks you from choosing the site of your garden all the way through what to do after the harvest. Buy a copy for yourself or a friend today!
---