Image via Wikipedia
Growing up, food was the enemy.  I had an enormous range of allergies, including several very severe food allergies. Labeling laws were not very strict back then, and any bite of food could easily attack my body and make me deathly ill. I grew to so detest the preparation of food that I worked outside with my father rather than stay inside and learn to cook with my mother and sister.  I went to college not sure how to do more than dump a can into a pan and heat it up.  And yet, this substance with which I have had such a convoluted relationship all my life was the path to adulthood for me.
Meal times growing up were tense.  I had potentially fatal asthma and was allergic to corn, beans, milk, and nuts. My sister had potentially fatal asthma and was allergic to beans, milk,nuts, and wheat.  When my mother prepared a meal, we ate what was served.  There were not enough foods both of us could eat for us to be picky eaters.  At the same time, any new food might be the source of a chest rattling asthma attack, sending us racing to the emergency room for help. .  Since the labeling laws at the time did not require the mention of any ingredient that made up less than two percent of the product, we could not necessarily trust the label to warn us of the presence of dangerous foods.  We could, however, ban the new offender from the house.
Of course, being kids, it didn't take us long to discover we could avoid foods we considered "yucky" by claiming they made us sick.  My parents developed their own skepticism as a result.  When the movie Rattitoui came out, I was purchasing my fruits and vegetables through an organic co-op. The box that week came with the recipe for the title dish and the necessary vegetables.  I called my mother to inquire if I could eat eggplant or not, not having had it within memory.  She reminded me of the incident where she made eggplant parmesan.  It may or may not have turned out the way it was supposed to, but we girls didn't think much of it.  We were told to stay at the table until our food was finished. Fortunately for me, my sister's throat started to swell shut after a few bites.  This declaration on her part was met with skepticism from my mother until the swelling was pronounced enough to actually see.  Only then were we excused from the table.
When my mother's mother, my Mamaw, died, it was early on a Wednesday morning.  My sister got three bereavement days, so she took the first shift, giving me time to get there on Thursday afternoon.  I didn't work, so would stay through the following Wednesday morning, the day after the funeral.  My uncle and cousins were also coming and would arrive on Friday or Saturday.
As I was packing, I thought of my poor parents, and them having to feed the descending hoard. Almost as an after thought, I packed the fresh spinach, lettuce,tomatoes, and some of the more fragile fruit I had gotten that week in my co-op box.  I put in a frozen pork roast large enough for the four of us, and a couple of packages of pork chops.  Then I loaded the car and drove to my parent's house, two hours away.
When I arrived, I unloaded the food and placed it in the refrigerator.  Food from the ladies my parents went to church with was in the freezer and part of the refrigerator,but it wasn't too full for my additions. The next night, I cooked the pork roast using a recipe I got off the pork producer's website.  I printed the recipe off the computer and saved it for Mom, in case she liked it.  I also made the fresh spinach salad my mother loves with the little mandarin oranges on it and the poppy seed dressing.  I had remembered the can of mandarin oranges and my mother keeps the dressing on hand. A day or two later, my mother cooked the pork chops and we had a mixed greens salad.  Before I left we finished up the food I brought.
I was a little over forty when my Mamaw died.  I am considered the black sheep in the family, the one who can't quite get it right. That box of food I brought did what all the previous years had been unable to do – it made me an adult in my mother's eyes.  Every time I talked to her for months after that, she mentioned how nice it was for me to have brought food when I came.  We Southerners take comfort in our food.  This was one box of food that gave comfort to us all.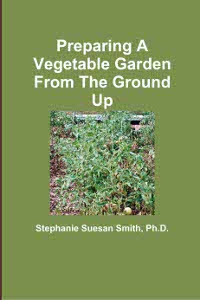 For more help gardening, buy my book, Preparing A Vegetable Garden From The Ground Up

Available in print or ebook from Amazon.com or other retailers, this book walks you from choosing the site of your garden all the way through what to do after the harvest. Buy a copy for yourself or a friend today!
---