One of the frustrations for Texas gardeners, and gardeners in general, is that articles on how to grow a particular vegetable or plant are good about telling you how to prep the soil and get the garden ready, but terribly vague about what varieties of the plant to use in your area for the best results. This is generally because such things vary widely by location and accurate advice is impossible without a location.  I am starting a series listing the information for each vegetable recommended for Hunt County, Texas along with the best varieties to grow here and something about their characteristics.
Because I have covered soil preparation in many posts, and in my book, Preparing A Vegetable Garden From The Ground Up
, these articles will stick to just the facts for each vegetable:
seeds, cuttings, or transplants,
planting depth,
days to harvest,
cultivars best suited to the area,
when to plant for spring
when to plant for fall
special quirks
If there is other information you think would be valuable, please let me know.  I  will be basing my information on the Vegetable Variety Selector on Aggie Horticulture.  If you live somewhere other than Hunt County, you can find your county and get a list of the best varieties to grow there.  In fact, because Texas is so large, you can usually find someplace that comes close to matching your climate and use those recommendations.
For those of you that do not live here, do not worry about being bored.  I will intersperse other topics in so you will have something to interest you as well.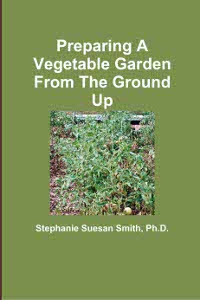 For more help gardening, buy my book, Preparing A Vegetable Garden From The Ground Up

Available in print or ebook from Amazon.com or other retailers, this book walks you from choosing the site of your garden all the way through what to do after the harvest. Buy a copy for yourself or a friend today!
---