Are you having problems with your cucumbers and squash growing to two or three inches long and then rotting?  You may be having pollination problems.  Normally, squash and cucumbers have male and female flowers.  Bees bring pollen from the male flowers to pollinate the female flowers.  With the problems bees have been having with colony collapse disorder and other diseases, there are not enough bees these days to pollinate all the squash and cucumbers.
You can fix this problem by pollinating your squash and cucumbers by hand.  It is not hard and will increase your yield considerably.  First, you have to find a male flower.  The female flowers have a baby fruit at the base of them while the males lack this feature.  Carefully pick the male flower.  Peel each petal off of the base, shaking the flower as little as possible.  What you have left are the stamens, which are covered in pollen.
Take this and brush it against the center part of a female flower.  One or two passes will do.  Remember to be gentle — bees crawling around on the flower generally do this part and the insides are fragile.  You can use one male flower on up to five female flowers.  Then you have to pick another male flower and start over.
That is all there is to pollinating your squash and cucumbers by hand.  You should see an increase in yields with this method if you do not have enough bees to pollinate the plants for you.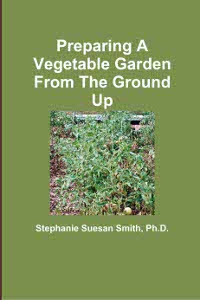 For more help gardening, buy my book, Preparing A Vegetable Garden From The Ground Up

Available in print or ebook from Amazon.com or other retailers, this book walks you from choosing the site of your garden all the way through what to do after the harvest. Buy a copy for yourself or a friend today!
---