If you have any animals that use or eat hay, things are going to be pretty nasty for a while.  The extreme heat and drought have brought hay production to a grinding halt.  The worst part is that the drought is so widespread, there isn't even any hay to import from other states.
My neighbor was baling his hay a couple of days ago.  I watched for a while because my puppy was facinated by the whole thing.  In normal years, they get 3-4 cuttings off that pasture, each producing close to 100 big round bales.  The hay is nice and green and free of weeds.
This year, I have only seen the one cutting, although there may have been one more I didn't notice.  The hay was of poor quality, short and scruffy.  The bales were not full ones.  Normally, this kind of hay would have been thrown out.  This year, it is all there is.
My parents live 136 miles from me.  They have a small hay pasture.  Normally, a neighbor bales it and gives them a small amount per bale for the grass.  This year, my parents didn't think anyone would want it.  They planned to just let it grow.  One of their neighbors asked Dad to let him bale it as he needed the hay.  Round bales are up to $89 for cattle hay and $100 for horse hay.  Now should be when they are at their lowest, as the first and maybe second cuttings have come off and the hay is fresh.
It looks like this drought will finish off many of the producers that have struggled with higher prices for seeds, fertilizer, tractor fuel, grain for animal feed, and practically everything but what they sell.  Some may not think that is a big deal, but our food supply is being threatened by the bankrupcy of these small producers.  Big factory farms grow a lot of food, but it is factory food.  The difference between it and the food produced by small producers is the difference between a fine hand crafted chair and a plastic chair from a big box store.
I do not have a solution to this problem.  I do think that any aid to farmers should be structured in such a way that there is a cap on who gets it and how much they get.  Say, no one with a net profit of over 100,000 should get aid.  Any larger and it is just a corporation, not a family farm.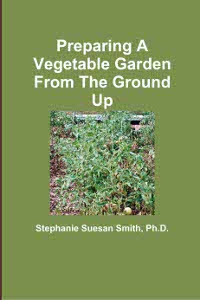 For more help gardening, buy my book, Preparing A Vegetable Garden From The Ground Up

Available in print or ebook from Amazon.com or other retailers, this book walks you from choosing the site of your garden all the way through what to do after the harvest. Buy a copy for yourself or a friend today!
---