When I was growing up, the Friday after Thanksgiving was Christmas decoration day.  The Christmas tree and decorations went up in the living room.  Decorations went all over the house.  Just as important, though, was the writing of the Christmas cards.
These were hand addressed and something personalized was written for each person.  I remember the agony of trying to come up with ten or fifteen different ways to tell various relatives about my activities and interests over the last year. Writing the same thing for each person was strictly forbidden.
The nice thing about sending Christmas cards was receiving them.  As the season wore on, cards came in the mail addressed to me.  My cards were set out on my dresser, while cards sent to the family were displayed on the bookshelves in the family room.  I loved reading about the different things favorite relatives wrote.
Nowadays, not as many people send Christmas cards.  However, it is still nice to write a favorite person or two a personalized note wishing them the joy of the season.  Tiny prints has over 450 cards to chose from that you can personalize with a photo or many photos.  I like the 5 X 7 DIY Holiday card as I like the freedom to design a card no one else has.
What are your holiday traditions?  What do you celebrate this time of year?
FTC Disclosure:  I was given a gift card for Tiny Prints products in exchange for this post.  I have worked with them before and enjoy their products.  My opinions are honest and  my own.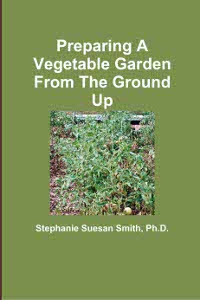 For more help gardening, buy my book, Preparing A Vegetable Garden From The Ground Up

Available in print or ebook from Amazon.com or other retailers, this book walks you from choosing the site of your garden all the way through what to do after the harvest. Buy a copy for yourself or a friend today!
---