Watering seems like one of those no-brainer things but can be deceptively complex.  Generally, with lawns, shrubs, and trees, the goal of watering is not only to keep the plant alive, but to do so in a way that produces strong roots.  Then, the plant can find water on its' own and we do not have to pour expensive water on the ground around it.  We help the roots grow by watering weekly and doing so in a way that really lets the water soak in deep.  We water one inch all at once and it goes down.  The roots have to go down too in order to get it.  Besides keeping the trees and shrubs hydrated, roots keep them upright.  Water shallowly and often, and when the storms come, shallow roots cannot hold on and the tree falls through your house.  Not a good thing.
With vegetables, however, we want them to grow fast and produce lots of food.  So we water one inch at a time, but more often.  Two or three times a week is good for plants that have started growing.  Seeds and seedlings need water as often as daily.  We want the soil damp but not squishy.  Squishy drowns your seeds and transplants.  Dry starves them.  So damp is best.
Now, watering a garden, especially in a hot place like Texas, costs money.  Those sprinklers you see watering lawns and gardens waste up to 40 percent of the water that comes out of the tap – it evaporates before it touches your plants.  I do not know about you, but I do not want to pay for twice as much water as is going on my plants.
Drip irrigation is the gold standard of thrifty watering.  It is more expensive the first year when you have to buy the parts, but it really saves money in the long run.  Plus, because the waster is delivered to the roots, disease problems are cut down a great deal.  Wet leaves breed mildew and fungus.  No wet leaves, not nearly as many problems.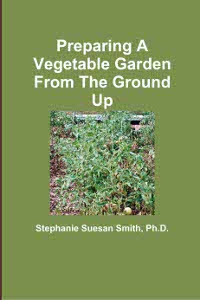 For more help gardening, buy my book, Preparing A Vegetable Garden From The Ground Up

Available in print or ebook from Amazon.com or other retailers, this book walks you from choosing the site of your garden all the way through what to do after the harvest. Buy a copy for yourself or a friend today!
---