I enjoy watching birds through my study window.  I have nest boxes all over my property.  Sometimes, though, the birds seem to be trying to take over the place.  They nest in hanging baskets, flower pots, and under eaves.  Then they dive bomb anyone that gets close.  Not cool!
Now, it is against federal law to disturb a nesting bird once the eggs are laid.  It is against most state laws, too.  However, with a bit of work up front, you can avoid the problems of birds nesting in your plants.
Chicken wire works for a lot of things that have nothing to do with chickens.  For hanging baskets and container plantings, you can get a short stick with a fork in it, place the stick in the container with the fork up, and then make a dome of chicken wire over the stick.  Tuck the ends of the chicken wire in the dirt.  The plant will grow through the chicken wire and cover it up, but the birds will not nest on top of it.  At least, my birds do not.
For the birds that nest under eaves, such as barn swallows, you have to pay attention.  As soon as they begin building a nest, remove it.  It may take several tries before they get the hint.
One way to help the birds and get them to leave your stuff alone is to instal nesting ledges.  These are simple three sided boxes with no roof that you put in places you want birds to nest.  Of course, the habitat has to be suitable — birds that build under eaves are not going to use a ledge set in a field on a stake.  But if there is a place under the eaves you do not mind them being, you can install the ledges there to encourage them to leave other areas alone.
Dove will use a nesting ledge that is set in a tree.  It needs to be where a branch enters the tree, with the open side of the ledge facing out from the trunk of the tree.  Robins will use a ledge in shrubs, as will some other small birds.
Most gardeners love birds.  With a little effort, we can shape where they live, or at least where they do not live.  The judicious use of chicken wire is the stick, the nesting ledge is the carrot.  Try both and see if they work for you.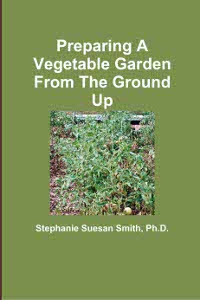 For more help gardening, buy my book, "Preparing a Vegetable Garden From the Ground Up." Available in print
or eBook, this book walks you from choosing the site of your garden all the way through what to do after the harvest. Buy a copy for yourself or a friend today!
---