If you have weeds in your garden, they generally fall into three categories:  grasses, broad leaf weeds, and sedges.  I discussed how to identify weeds so you can figure out how to kill them. That is important because putting the wrong chemical on a weed is a waste of time and money.
Broad leaf weed killers have many modes of action.  One of the most common that is used on lawns is 2,4,d.  It is in most weed and fertilier products sold to kill weeds in bermuda grass.  It will, however, kill Saint Augustine grass, which is really a broad leaf plant.  2,4,d kills be causing uncontrolled cell division in the plant.  Much like cancer in humans, the uncontrolled cell division kills the plant.
As it happens, since most vegetables are also broad leaf plants, you can't use 2,4,d in the garden.  In fact, most herbicides are not labeled for use in your garden.  That is because they will either kill the plant outright, or be stored in the plant tissue and make you sick when you eat it.
What can you do?  Prevention is the key here.  When you plant your garden, mulch everywhere you have put in transplants.  Obviously, you cannot mulch where you planted seeds until they come up.  However, mulching between rowns and around the transplants will help.  When you seeds come up, as soon as they are two inches tall, put down an inch of mulch around them.  Continue additing mulch as they grow until there is a three inch layer of mulch over the entire garden.
Three inches of mulch is necessary because a weed seed that germinates in the soil will starve before it makes it through that amount of mulch.  Each year, you add another inch of mulch to replace that which has decomposed.  Just move it aside enough to make a furrow for the seeds, plant as normal, and replace it as the seeds get taller.
If you do not mulch, you will have to weed by hand.  Chopping weeds with a long handled hoe used to be a common activitu.  You chop them rather than pull them if they are close to your wanted plants so you do not disturb the roots of the desirable plant.  Most weeds do not tolerate being chopped well so die out rather quickly.
Be sure and gather the chopped weeds and compost them.  They make good green matter for your pile.
The best way to control broad leaf weeds in the vegetable garden is to prevent them from ever coming up.  Mulch helps a lot there.  Almost anything else you can find to kill the weeds will kill the vegetables, to.  Remember if your vegetable isn't on the label as safe to use near, you cannot use it there.  You don't want to poison yourself or your family.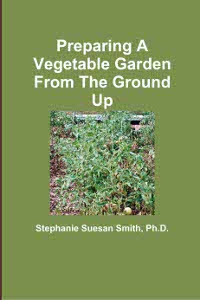 For more help gardening, buy my book, "Preparing a Vegetable Garden From the Ground Up." Available in print
or eBook, this book walks you from choosing the site of your garden all the way through what to do after the harvest. Buy a copy for yourself or a friend today!
---