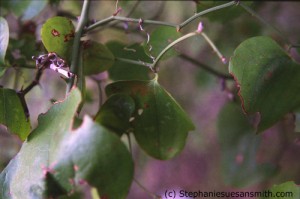 Greenbriar is our Kudzdu here in Texas.  Called various names, from Cat-brier, Zarzaparrilla, Saw Greenbrier, Fiddle-leaf Greenbrier, China-brier, Bull-brier, Tramp's-trouble, Stretch-berry, Catbriar, to  Fringed Greenbrier, it is everywhere.   It also has thorns, so meets the "Everything in Texas either has thorns, fangs, or stings" part of the equation.  Further, it has a waxy coating on its' leaves that repels herbicides.  Truly nasty stuff, it will take over a pasture if allowed to.Greenbriar spreads in two ways.  Birds eat the fruit and the seed passes through their digestive system.  It drops out where ever the bird deficates, along with a dolop of fertilizer to help it along.  The seed can stay dormant for long periods until the conditions are right for good growth.  The other way greenbriar spreads is through underground rhizomes.  That is why one greenbriar plant quickly becomes a pasture full of them.
While humans are not fond of this thorny invader, it provides quite a lot for wildlife.  The foliage and tubers are eaten by small animals.  Birds not only eat the fruit, they use the growth of the briar as nesting cover.  Because of the thorns and the thick growth, small mammals can also use it as cover.
Helpful or not, sometimes the stuff has to go.  As I mentioned, the waxy coating on the leaves makes it hard for herbicides to penetrate and be absorbed.  The best way to kill it is to cut it off as close to the ground as possible and immediately paint the cut stems with glyphosate.  Two weeks later, any new stems or shoots should be cut and the process repeated.  Sometimes it takes several applications of glyphosate to kill the plant.  If you can treat as much of the greenbriar as possible in a given area at the same time, it will die quicker.  The plants you cut off cannot get nurishment from others through the rhyzoimes if they are all cut off.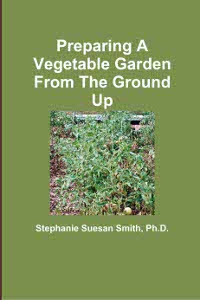 For more help gardening, buy my book, "Preparing a Vegetable Garden From the Ground Up." Available in print
or eBook, this book walks you from choosing the site of your garden all the way through what to do after the harvest. Buy a copy for yourself or a friend today!
---