One of the interesting things about practicing integrated pest management (IPM) is that you get to learn about the relationships between the insects that you consider pests and the insects that eat them.  The lady beetle, or lady bug, is one of the good bugs that eat the bad bugs.  Specifically, lady beetles eat aphids.
Aphids are little white bugs that do not move around much during their adolescence, but suck the juice out of plants while secreting "honey dew".  This thick, sweet substance attracts ants, which protect the aphids so they can eat the honey dew.  It also slimes the plant and allows sooty mold to grow on it.  This mold covers the leaves and prevents photosynthesis from occurring.  If enough of the plant is covered, it starves to death.
Enter the lady beetle.  She, and her immature children, love aphids.  In fact, that is pretty much all they eat.
There are two problems that people run into when using biological controls such as the lady beetle.  The first is that if you have been using a lot of pesticides, you may not have any beneficial insects left to eat the bad bugs.  For some reason, no matter how much you spray, the bad bugs always pop back up in a relatively short time.  The predators take longer to rebound.
The second problem is that you have to tolerate some of the bad bugs in order to feed enough of the good bugs to keep things balanced.  So using IPM will not yield zero aphids.  It will keep them at a very low level where they do not cause economic damage.
If you are prepared to tolerate a low level of aphids so the lady beetle can keep herself and her kids fed, you need to know a little about the bug you just hired. Lady beetles lay eggs on plants. These eggs hatch into larvae that are soft bodied and covered with spines. After eating on aphids, scales, and mites for a while, they become pupae. From the pupae emerges a lady beetle. This whole cycle takes from 3-6 weeks. There are over 500 naturally occurring species of lady beetles in North America.
Now, if you have been spraying pesticides, you may not have any lady beetles in your yard. If you want to try IPM, you can purchase them from some of the gardening supply houses. Often, however, you purchase them, release them, and watch them fly away. Expensive mistake! I only did that once.
Gardens Alive!
is a company I have bought things from. They sell lady beetles that are ready to lay their eggs when released. This means not only do they stick around the release site longer, the eggs provide a continuing source of more lady beetles. This stocks your garden and helps you get things back in balance between the good bugs and the bad bugs. Try there lady beetles and see if they do not eat a big chunk of your aphids. Note I get a small commission if you buy through this link. I would recommend them even if I did not get a commission, as they are good bugs from a good company.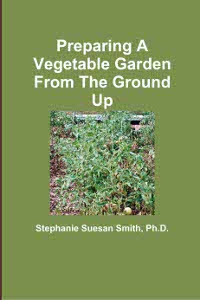 For more help gardening, buy my book, Preparing A Vegetable Garden From The Ground Up

Available in print or ebook from Amazon.com or other retailers, this book walks you from choosing the site of your garden all the way through what to do after the harvest. Buy a copy for yourself or a friend today!
---