Wondering what to get that gardener on your gift list?  Here are some last minute suggestions: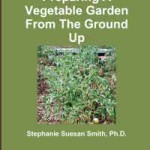 1)My book, Preparing A Vegetable Garden From The Ground Up
, is now only $0.99 in ebook form.  It should be the first thing on your list for your gardening friends.  Available in print or ebook from Amazon.com or other retailers, this book walks you from choosing the site of your garden all the way through what to do after the harvest. Buy a copy for yourself or a friend today!
2)Give the gift of biodiversity and give your friend a membership to the Seed Saver's Exchange.  This excellent seed bank grows and preserves heirloom seeds for the next generation.  At only $40, members save 10% on catalog prices, have access to varieties not sold elsewhere, and know they are helping preserve pure seed for future generations.
3)Baker Creek Heirloom Seeds has made planting heirloom seed vegetable gardens easy.  They have buckets filled with varieties of heirloom seeds for small, medium, and large gardens all ready packed.  All you have to do is order a North bucket or a South bucket to get the varieties best suited for your vegetable garden.  These seeds are open pollinated and packed to last so make a good emergency seed store in case of disaster, too.
Any of these gifts will be sure to please your gardening friends.  Of course, I hope you chose to give the gift of my book, but I am slightly biased there.  Good luck and good holidays.
---