Every October, pink ribbons flood the shelves, PSAs play about the importance of self exams, mammograms, and other forms of self care.  Almost every woman has heard of this by now.  Money is raised and awareness is raised.
I was one of the lucky ones.  I got in duci carcinomia and caught it early due to the awareness campaigns that have blanketed this country.  I am officially "cancer free" at this moment.  I do not forget, however, that I was one of the lucky ones.  There should be no luck in whether we survive to the end of our lifespan.
We can all help.  It doesn't cost money, this help.  It means giving of our time and volunteering for research. This can be as simple as filling out a questionnaire.  The Dr. Susan Love Research Foundation and The Avon Foundation for Women have combined to form the Love/Avon Army of Women.
Research takes time, but it also takes volunteers.  Some of the studies follow women for a decade or more to see who will get cancer, then try to find any commonality among those that set them off from those that do not get cancer.  It takes large numbers of women willing to allow themselves to be followed and to honestly answer questionnaires over a long period of time to do this research.
Some studies, in contrast, just ask for you to fill out one questionnaire, or give a cheek swab for a DNA study.  So not all studies require committing your self for a long time.  You can help even if you just fill out one questionnaire or do one thing.  Everything counts in this fight.
Other research is done when cancer is found.  What are it's characteristics in different body types or ethnic groups?  How can diagnostic tests be tailored to these realities?  Again, it takes numbers to make these studies meaningful.
Treatment studies are well known.  Hopefully, you will never have to participate in one.  If you do, at least you will know that your chance at getting well will have the added benefit of giving that chance to others.
If you want to help, join the Avon/Love Army of Women.  You sign up, and if there is a study in your area, you are notified.  You might take a screening questionnaire to make sure you qualify.  If you are still interested and you qualify, a researcher will call and do a further screening interview, then explain what is needed.  You are free to withdraw at any point and will never be pressured to participate.
Once you sign up for the Army of Women, you can Tweet or place on your Facebook page "I signed up to STOP breast cancer before it STARTS.  Have you?  Join today at www.armyofwomen.org, then copy and paste this status update as your own". Of course, that is optional as well, but don't you want to enlist your friends and family in this battle?
Women of every ethnicity are needed.  Women of every age are needed.  Women of every size are needed.  Women of every health status are needed.  Basically, if you have two X chromosomes, you are needed.  Even men can sign up.  Male breast cancer is rare, but it happens.
This movement represents a sea change from doing research on cell lines and animals to studying why cancer starts in women.  If we know why it starts, we can begin to prevent it, not just detect it.  Detection and treatment are important, at least they were to me, but prevention is crucial.  How crucial?  60 years ago, polio stormed through the United States every summer and left dead and dying children behind.  The survivors now struggle with debilitating post-polio syndrome.  Polio is almost unheard of in this country at present because of prevention through vaccination.  Let's work together to make breast cancer just as unheard of in the future of our children.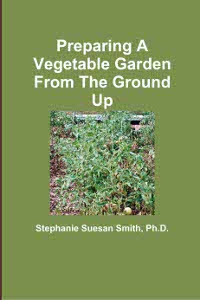 For more help gardening, buy my book, Preparing A Vegetable Garden From The Ground Up

Available in print or ebook from Amazon.com or other retailers, this book walks you from choosing the site of your garden all the way through what to do after the harvest. Buy a copy for yourself or a friend today!
---