Welcome to my part of the Lucky Leprechaun Blog Hop!
What better way to celebrate the famed Emerald Isle than to learn to grow something?  And what better to grow than food?
After all, food, or the lack of it, is the reason the United States celebrates St. Patrick's Day.  If not for the infamous Potato Blight, the millions of Irish who came to North America would likely have stayed in Ireland.  The potato did not originate in Ireland, of course.  It is native to the mountainous region of Peru bordering Ecuador.  Potatoes have been cultivated by the native peoples there for a long time, though.  When the Spaniards came, potatoes were one of the items they took back to Europe.
Potatoes were hardy and easy to grow.  They were also nutritious and filling.  Potatoes quickly spread across Europe and parts of Asia and Africa.  They went from being food for the rich to being the food peasants grew and ate.  In an area where land was at a premium, and a man's labor belonged to his King, a family could grow enough potatoes to feed themselves in their few spare hours.
The problem with depending on any one crop, though, is a disease or pest can wipe out everything.  So it was with the potato blight.  In September of 1845, when the potato crops were harvested, peasants found that the potatoes looked normal when dug.  Within days, though, they were a stinking, rotting, mess.  Crops continued to fail through 1849, causing the death of a quarter of the Irish population from starvation and attendant diseases.
Many more Irish went to North America — first to Canada, then to the United States.  One in five died on the passage.  The others were subjected to humiliating quarantines and discrimination upon landing.   Signs saying NINA or "No Irish Need Apply" were common.
Even so, the Irish came and they stayed.  It is said there are more Irish here than in Ireland.  In fact, Ireland has its' own version of the "right of return" for Irish coming back from the US, no matter when their ancestors migrated.
To celebrate St. Patrick's Day and the contributions of the Irish to the US, I am giving away a copy of my eBook, Preparing a Vegetable Garden From the Ground Up.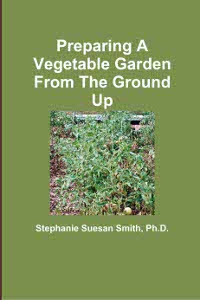 Available in print
or eBook, this book walks you from choosing the site of your garden all the way through what to do after the harvest. Buy a copy for yourself or a friend today!
To enter:  simply leave a comment on this post.  Make sure I have your email so I can contact you if you win.  Contest runs from 12:01 am CST March 17, 2011 until 11:59 pm CST March 20, 2011.  I will draw a winner before noon on Monday, March 21, 2011.  If they have not verified their address by Wednesday, March 23 at noon, I will draw again.
One extra entry if you follow me publicly on Google connect and leave a comment to that effect.
---