Make the Most of Winter for a Sustainable Garden
It's a topic of debate amongst gardeners; some adore winter as it means they can have a well-earned rest after the rush of summer sprouting and the fall harvest; however others miss the daily trek into the garden, and count down the days until spring.
However whether it's loved or hated, winter produces so much for a sustainable garden that even the green fingered who are enjoying time off will enjoy.
Leaf Mulch
An unseasonably mild winter means that leaves are STILL falling from the trees, no sooner is the yard swept than another fall of leaves cover the ground. This is the ideal time to stack up the leaf mulch compost making sure the bin is full to the top and ready to rot as the warm weather returns.
Water
With storms and rain, and wet windy days, water barrels are filling fast. With adequate storage enough water can be gathered to make sure there's enough in the spring.
To keep it fresh it is a good idea to half empty a full water barrel and then leave it outside for the natural rain to fill it up. There really is no better way to water plants.
Logs
Although for some of us so far the snow has been avoided, winds and hurricanes are in the news everyday causing havoc as they sweep their way across the country blowing over cars and buses alike. There has never been a more crucial time to trim trees, and precarious branches. Twigs can be dried out in a barn and used for kindling, whereas logs can be stacked, either to make natural wildlife homes, or to insert mushroom plugs when the time is right. Mushrooms grow well on damp logs with shade, adding extra fungi to the home crops.
Drying logs out and stacking neatly in a wood store will make sure that a wood burning stove or open fire keeps alight as the chills from the early spring gardening are melted away.
Seeds
It's amazing this winter as some annuals that have been left out in the cold are still flowering despite the New Year beckoning. As normally gardeners would collect seeds in the fall, now is the time for those that had not completely dried out. Bird of paradise seeds and bedding plants seeds will ensure some good activity as May arrives. Whereas herb seeds will ensure the border of the veggie patch is as luscious as it's always been without costing a cent.
This was a guest post from Martina Mercer on behalf of Lavenderworld.co.uk. Lavenderworld provide a range of products for the garden including herb plants and perennials.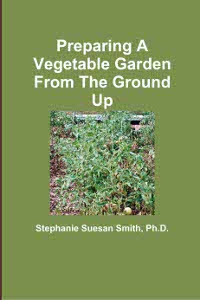 For more help gardening, buy my book, Preparing A Vegetable Garden From The Ground Up

Available in print or ebook from Amazon.com or other retailers, this book walks you from choosing the site of your garden all the way through what to do after the harvest. Buy a copy for yourself or a friend today!
---