Mistletoe, in North America, is used as a Winter holiday decoration.  Men and women are supposed to kiss if they meet under the mistletoe.  Consequently, mistletoe enjoys something of a rosy reputation among many people.  As a gardener, however, I have always viewed it with a more jaundiced eye.
Mistletoe is a hemi-parasite, infesting trees and feeding off their vascular systems.  It does produce some food of it's own, but most comes from the host plant.  While one mistletoe plant probably doesn't mean much, a lot of mistletoe can kill a tree.  As a teenager, I remember being sent up to remove mistletoe from one of my mother's trees before it died from the infestation.
Mistletoe is poisonous.  It causes massive stomach cramps and diarrhea and low pulse, and can kill.  Every year some small children eat the berries and end up in the hospital.
Birds and small animals spread the mistletoe seeds after eating the berries.  Often, the droppings of the birds provide the fertilizer needed for the plant to get started and also the glue to stick the seeds to the new host tree.  While gardeners may view mistletoe as a problem, the seeds, shoots, leaves, pollen and twigs provide food and nesting areas for a large number of organisms, making it a keystone species.
Pre-Christian European cultures considered the mistletoe to represent male fertility.  Celts believed it would cure barrenness in animals and used it as an antidote to poison.  The custom of kissing under the mistletoe is not mentioned until the 18th century.
There is a very comprehensive web page on European Mistletoe that includes more information on pre-Christian British uses for mistletoe as well as some books and other items on it.  The British are actually dealing with a shortage of mistletoe due to people better maintaining their trees.  It would appear that  mistletoe in wild trees might better be left alone so that birds and animals dependent on it can continue to use it.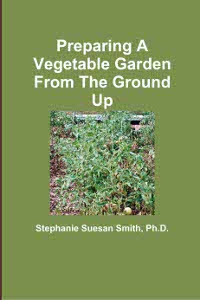 For more help gardening, buy my book, Preparing A Vegetable Garden From The Ground Up

Available in print or ebook from Amazon.com or other retailers, this book walks you from choosing the site of your garden all the way through what to do after the harvest. Buy a copy for yourself or a friend today!
---