It is the rainy season in Texas.  That means lots of us go to bed with a nice, neat garden and wake up to mushrooms every where.  What causes these mushrooms to magically appear?  How do you get rid of them?  Are they edible?  Read on for the answers, or at least some answers.
Let's dispose of the last question first.  While it is technically possible that the mushrooms that sprout in your lawn or garden are edible, it is not a good idea to try and eat them.  Deadly mushrooms look so much like the edible ones in most of North America that even mycologists (mushroom specialists) have to perform microscopic evaluations of the spores to tell the species apart.  I am probably dating myself, but remember Euelle Gibbons?  He was this guy who "ate off nature's bounty" and was a recognized specialist in wild edible plants.  He also died of mushroom poisoning.  If the experts can't tell, you should not try.  Just assume they are poisonous and go from there.  You can pick them while wearing gloves and put them in your trash, then wash your hands.  This keeps them away from kids and pets.
The mushrooms spring up from pre-existing mats of spores that are under the ground.  They usually start at a rotted stump or other rotting vegetable matter and spread two to five feet a year.  When the rains come, growing conditions become perfect and the mushrooms appear.  If left alone, they will mature and distribute spore through the wind to colonize another site.
There is no easy way to eliminate mushrooms in the lawn or garden.  The cures are worse than the problem.  Soil fumigation requires stipping the sod or plants from the area, then tarping it and pumping fumigate into the soil.  It also requires a professional, as homeowners cannot buy these chemicals.  That means it is very expensive. 
The other alternative is to dig down a foot and remove the mat under the soil.  Again, everything must go above the mat, and if you miss one little bit, it comes back.  This is both more draconian and more expensive than most of us are willing to go through.
The best thing to do is pamper your lawn and garden, watering an inch a week deeply all at one time for lawns and fertilizing at recommended times.  For gardens, you water deeply once or twice a week, as required, and fertilize as recquired.  If the mushrooms appear, pick them while wearing gloves and put them in the trash, them toss the gloves and wash your hands.  Disposable gloves are easy to come by now and are perfect for this purpose.  You do not want to get the spores on your good gloves and accidently spread the problem. 
At least in Texas, the problems are generally confined to the rainy season.  Droughts, heat, and mushrooms do not do too well together.  If you get mushrooms during the drought or summer heat, and it hasn't been raining recently, you are watering wrong.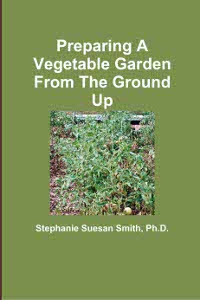 For more help gardening, buy my book, Preparing A Vegetable Garden From The Ground Up

Available in print or ebook from Amazon.com or other retailers, this book walks you from choosing the site of your garden all the way through what to do after the harvest. Buy a copy for yourself or a friend today!
---