Have you ever had your seedlings wilt and fall over suddenly?  They were growing great guns when you checked on them.  A few hours later, they were sprawled over the ground like drunken sailors, never to rise again. You have had an encounter with damping off.
Damping off is an umbrella name for an infection caused by one of three organisms: Pythium species, Phytophthora species, or Rhozoctonia solani. All three are fungi that infect the roots of the baby plant, then spread upwards.  At or just above the soil level, the plant stem pinches in and turns brown, the plant keels over, and your beautiful seedling is no more.
Damping off is caused by excessive soil moisture in exactly the conditions that are most common around seedlings:  high humidity, lots of plants together, poor ventilation, and compaction of the soil.  Reusing soil trays to start your seeds without bleaching them out first will spread it year to year.  You should also use a pasteurized soil mixture for the same reason.
Finally, be careful of your soil moisture.  You want the soil wet enough that the seeds germinate and grow, but not soggy.  That invites fungal diseases.  In some cases, the fungi will rot out the seeds, making it appear to have a poor germination rate.  In others, it waits and ambushes the seedlings.  In either case, you end up with nothing to show for your efforts.
Once the seedlings start wilting, the only thing you can do is isolate that flat of plants from the others and change your watering to reduce the moisture around the seedlings that remain.  The ones that have keeled over are dead.  Throw them away, do not compost them.  No use spreading the infection to your compost heap.  Discard the dirt they were growing in, too, and bleach the growing tray good so the fungus cannot live in it until you use it again.
For the flats of seedlings that have not died yet, you need to reduce the amount you are watering and make sure you do not splash dirt on the leaves of the plant when watering.  You want the soil moist enough to germinate the seed and keep the seedling from wilting, but not squishy.  Squishy soil is a fungal haven.    Even after you change your watering practices, you will probably lose additional plants.  They were all ready infected and just hadn't died yet.  Do not be discouraged.  Just start more seeds in bleached trays using pasteurized soil.  Don't over water, and you should be okay.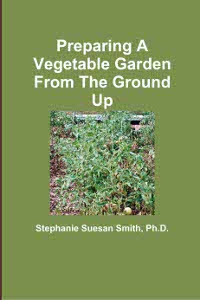 For more help gardening, buy my book, "Preparing a Vegetable Garden From the Ground Up." Available in print
or eBook, this book walks you from choosing the site of your garden all the way through what to do after the harvest. Buy a copy for yourself or a friend today!
---