I live way out in the country, far from street lights or sidewalks. When I have to go out after dark, I have to take a flashlight or lantern to see what I am doing. I do have a porch, and it has lights, but they attract loads of bugs.  I have some problems after dark, all right.
I started hearing about this group of stores called CSN .  I try very hard to order as much stuff from the internet as possible because it is a long way to town and the selection is rather limited.  I checked out their web page, or collection of pages, and was amazed. They have lights, bug repellant candles and torches, grills, and just about anything you would want for indoors or out. CSN has kindly offered me a $40 gift certificate to pick out something to review from one of the over 200 stores they have.
When my goodie arrives, I will try it out and post the results. I am still not sure what I will get, but I am sure it will be as fun to pick that out as to use it. Stay tuned for more information as it becomes available, as they always say on the news.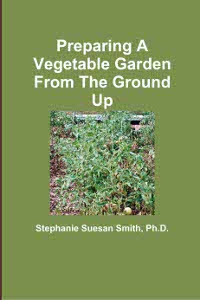 For more help gardening, buy my book, Preparing A Vegetable Garden From The Ground Up

Available in print or ebook from Amazon.com or other retailers, this book walks you from choosing the site of your garden all the way through what to do after the harvest. Buy a copy for yourself or a friend today!
---