Ever wonder where those big, beautiful orb spiders go in winter?  In NorthEast Texas, they have been very prominent recently.  Standing sentinel in the center of their web over their egg sacks, they hardly move.   Where do they go when it gets cold?
The truth is they die before the cold really hits, at least in this part of the country.  The female lays her eggs, then covers them with a sack of silk.  Then she dies.  The babies hatch in the fall, but stay inside the egg sack until the spring.
We do not notice the baby orb spiders because they are small.  It is only in the late summer that they become big enough to catch our eye.  Orb spiders catch insects, so are a beneficial creature to have around.  Having them around also suggests you use fewer pesticides, as they are sensitive to them, and that the ecosystem in that corner of your yard is healthy enough to support a major predator.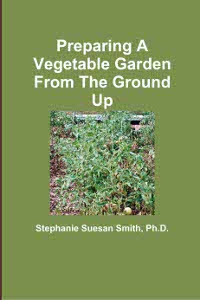 For more help gardening, buy my book, Preparing A Vegetable Garden From The Ground Up

Available in print or ebook from Amazon.com or other retailers, this book walks you from choosing the site of your garden all the way through what to do after the harvest. Buy a copy for yourself or a friend today!
---