Image via Wikipedia
Organic gardening, at its' simplest, is gardening using only substances occurring in nature.  No synthetic compounds are allowed.  This mean pesticides and fertilizers must be made of naturally occurring substances.  Of course, it isn't that simple.  As usual, the devil is in the details.
Many people mistakenly think that if something is naturally occurring, it is safe.  Just because it is natural does not make it safe to consume.  Arsenic, cyanide, and nicotine are naturally occurring substances, but are so toxic that they are banned in organic gardening.
That leads to the question of who decides what is organic.  In the United States, the United States Department of Agriculture (USDA) was charged with deciding on what was organic and what was not.  This organic certification is recent and the rules were hotly debated.  Farmers that had been practicing organic farming in a very strict fashion wanted that standard used.  Big box retailers wanted fairly relaxed rules so they could easily get certified organic food and make more money.  In the end, a compromise was reached that pleased no one, but was somewhere in the middle.
One of the major areas of contention involved the use of sewage sludge as fertilizer.  This is the stuff left over when the water is drained at the waste treatment plant.  Theoretically, it has been treated and is just organic matter ready to be used as fertilizer, just like compost.  However, there is the concern that heavy metals and other toxic substances may be in it.  Then there is the yuck factor –most of it is composted human waste.  The USDA allows organic farmers to use it.  Oregon Tilth prohibits it.  I am with them on this one!
Up until the government stepped in, the major certification source was Oregon Tilth.  They are very strict and it is expensive to get that certification.  This is because they actually come and inspect each prospective place and have strict record keeping and audit requirements.  If they have certified something, there is no doubt in anyone's mind it is organic.
Getting certified by the USDA is expensive, too.  Because of this, many small farmers who follow organic practices just can't afford to be certified.  However, there is now a cost share program where if you are certified, the government will rebate 75% of the cost, up to $750.    In addition, if you follow the same organic practices as a certified farm but make less than $5,000 a year from your products, you may say that your products are organically produced.
To be certified organic you must not have used synthetic substances on your land for at least three years.  You must keep records of everything you put on your garden or farm.  These records are subject to an audit at any time.  Certificates do get pulled so audits are occurring.  There is a list of banned substances and as I mentioned, there are some naturally occurring things on it.  If you are interested in organic gardening, it is worth going to both Oregon Tilth and the USDA and reading the lists of banned substances, the required practices, and the record keeping requirements.  Organic gardening is more work than conventional gardening.  Only you can decide if that work is worth it.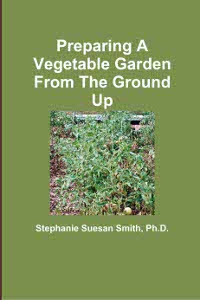 For more help gardening, buy my book, Preparing A Vegetable Garden From The Ground Up

Available in print or ebook from Amazon.com or other retailers, this book walks you from choosing the site of your garden all the way through what to do after the harvest. Buy a copy for yourself or a friend today!
---