Organic gardening is all the rage now.  However, what exactly constitutes organic gardening differs among the groups of people advocating it.  The simplest definition is that organic gardening uses only natural substances, not synthetic ones, to grow whatever it is you grow. 
Pesticides are allowed, but only when they are made up of natural ingredients.  So is fertilizer, and anything else you add, such as compost.  The arguments come in when you define what pesticides and fertilizers are made of natural ingredients.
Organic growers had been self regulating until recently.  Oregon Tilth certified growers as organic and has the strictest standards for what is or is not allowed.  Then the USDA passed regulations creating an organic category and certification.  It is considerably looser than most organic growers wanted, but stricter than the big farms that produce for places like Wal Mart wanted.
Organic certification is really only necessary if you intend to sell what you produce.  However, both of the places I mentioned have lengthy explanations about what is and is not allowed in organic gardening.  Just because it is natural does not mean it is allowed.  Some things, such as nicotine (usually in the form of powdered tobacco), are so toxic they are not allowed in organic production.  Remember that just because it is natural does not mean it is safe.
If you have been using synthetic chemicals and want to become organic, you must not use any substances on the prohibited list for three years before you can claim you are organic.  During that three years, you can say you are in transition.  Getting certified is expensive.  Most states have a clause that says if you make less than a certain amount from your organic produce or whatever, and you follow all the organic practices laid out by the USDA, you can claim to be organic.
If you just want to garden with your family without the use of harsh chemicals and fertilizers, than the information provided by the USDA or Oregon Tilth will help you do that.  I will also be doing more articles on organic vegetable gardening, including articles on organic pest management, organic fertilization, and other ways to grow things without synthetic products.
If you have a specific question about organic gardening, leave it in the comments and I will try to answer it for you, or point you to someone who can.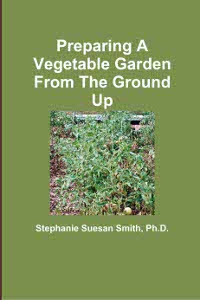 For more help gardening, buy my book, Preparing A Vegetable Garden From The Ground Up

Available in print or ebook from Amazon.com or other retailers, this book walks you from choosing the site of your garden all the way through what to do after the harvest. Buy a copy for yourself or a friend today!
---