Pansies, and their ancestors the viola, are often planted for winter color.  They are that, but they are more.  Pansies are edible and can be used to garnish any number of dishes.  Best of all, they come in lots of  colors so you can color coordinate your dishes.
Pansies come in a multitude of colors and every seed company seems to have its' own series of them.  Pay attention to the zone each variety does best in.  Some tolerate hot climates such as Texas better, while some do better in the cool North.
Pansies can be grown from cuttings or seeds, but most people buy the plants and transplant them into the ground.  If you have a greenhouse and wish to start pansies from seed, you must first put the seed in the refrigerator (NOT the freezer) for 24 hours.
After the chilled seed is removed from the refrigerator, put them in a flat full of soil then lightly cover them.  Place plastic wrap over the flat after watering, then place a dark cover over the flat.   Place them where it is 60-65 degrees. The seeds will germinate in about two or three weeks.
After the seeds germinate, it takes about 14-16 weeks to get blooms.  Blooms should be removed regularly so that the plant continues to produce.  Pansies have a faint wintergreen taste.  They can be used as garnish, much like parsley, or in salads as part of the meal.  Just make sure no pesticides are used on or around them so you do not have a problem from consuming them.
What do you use edible flowers for? If you have a good recipe, I would love to have it.
This post has been submitted to the "How to Find Great Plants" monthly carnival. Look for it there and learn about other plants, too.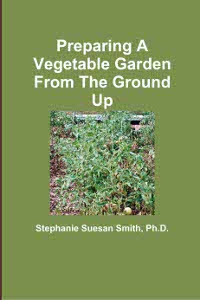 For more help gardening, buy my book, Preparing A Vegetable Garden From The Ground Up

Available in print or ebook from Amazon.com or other retailers, this book walks you from choosing the site of your garden all the way through what to do after the harvest. Buy a copy for yourself or a friend today!
---