One of the tree killing insects I wrote about in my article for Scroll Saw Magazine was the pine bark beetle.  This economically important beetle, or group of beetles, kills pine trees and other related species.  I was clearing cedar off my land and found a tree infested with the critters.
Maybe it is the entimology geek in me, but I always get excited when I see a bug, especially if it is one I have only read about.  I got my camera and took these pictures.  I tried to remove one of the grubs to take a better picture of it.  The holes are filled with resin and the grub is very soft.  All I managed was a smeared grub, so this is the best picture I could get.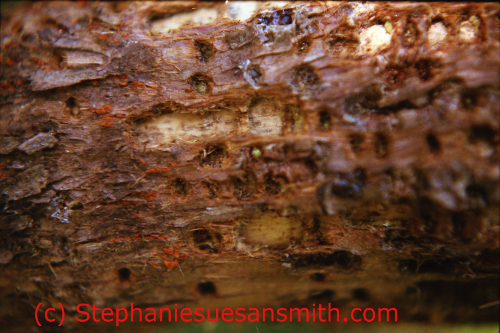 As you can see, there are rows of holes.  Each of these has, or had, a larvae in them.  They suck the plant juices coming up from the roots.  Eventually, so many of them exist that they girdle the tree.  That kills it.
The adult beetle lands on a spot, chews a hole through the bark, and lays her eggs, one per hole.  The larvae hatch and munch around until they pupate, just like a caterpillar.  Instead of a pretty butterfly, out pops another beetle.  It then flies somewhere and lays more eggs.  On batch of eggs can hatch enough beetles to wipe out a grove of trees.
There are two approaches to killing these bugs.  You can put a contact poison on the tree trunk so when they land to lay their eggs it kills them, or you can put a drench around the trees so they take up the poison and the grubs suck it in with the plant juices, killing them.  Neither approach has much research on it, so neither is officially recommended.  However, if it is your tree and it is special to you, you can try putting a product containing permethrin, bifenthrin or cyfluthrin on the tree.  Look for a product that is labeled for trees and says it is for borer control.  The drench would be either Bayer Advanced Tree and Shrub Insect Control (imidacloprid) or Greenlight Safari (dinotefuran).  If the infestation is heavy, you will likely lose the tree, but you may be able to save surrounding trees that are vulnerable by treating them.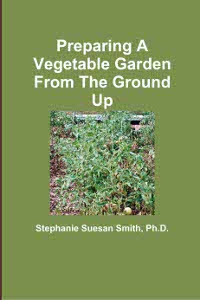 For more help gardening, buy my book, Preparing A Vegetable Garden From The Ground Up

Available in print or ebook from Amazon.com or other retailers, this book walks you from choosing the site of your garden all the way through what to do after the harvest. Buy a copy for yourself or a friend today!
---