It is time to plan your vegetable garden for the coming season. Seed catalogs are coming in the mail.  The weather may be horrible but you can dream of spring and planting your garden.  You can plan your garden and order your seeds and plants while they are still available.  At the very least, you can start the seeds inside so they are ready for planting when the weather warms up.
Planning your garden includes rotating your crops so that the new plants do not get diseases or pests from the place where that crop was planted last year.  It is best to rotate crops by families:  cole crops such as cabbage and broccoli, nightshade plants such as tomatoes, eggplants, and potatoes, cucurbits such as squash, cucumbers, and melons, and the root crops such as carrots, turnips, and beets.
The easiest way to plan your garden is to decide what you want to grow and make a list.  Get two pieces of graph paper.  One one, draw your vegetable garden space.  Make sure it is to scale.  With the second piece of paper, draw how much space each crop you want to grow takes up.  Note the day each crop should be planted and the number of days it takes from planting to harvest.
Cut out each crop making sure you get all of the space it needs.  For example, cucumbers need more space than radishes.  Now you are ready to design your garden.  Place the different vegetables on the gardening space sheet of paper.  Move them around until the earliest crops are planted in a good spot away from where they were planted last season.  These early plants typically include onion slips, radishes, turnips, rutabagas, snap peas and beets.  When you are satisfied, tape the pieces of paper representing your vegetables to the one representing you garden.  That is your planting guide for the early season planting.  Some of you do not get to plant an early season garden because it is too cold where you live.  However, you can follow the same directions to get your garden planned for when it is warm enough to plant.  Also, once you have planned your garden, you can count back six to eight weeks before the actual outdoor planting season starts and start some seeds growing that will ultimately be planted in the garden when it is warm enough for them to grow.
Another advantage of planning your garden this way is succession planting.  For example, radishes take around 45 days from planting to harvest.  Once they are harvested, you can plant another crop of something else in the vacant space.  This helps you grow more vegetables in your plot, even if the plot is small.
You can also experiment with the heirloom varieties of some of your plants when you raise them from seed.  You do not have to be content with only the seeds or plants the nursery carries.  There are several reputable places that carry only or mostly heirloom seeds and plants, such as: Seed Savers Exchange, Baker Creek Heirloom seeds, Renee's Garden Seeds, and Southern Exposure Seed Exchange.
Good luck with your garden and may 2017 bring you a bountiful harvest.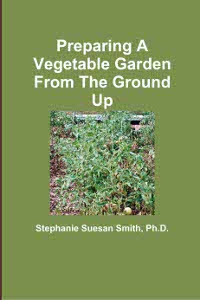 For more help gardening, buy my book, Preparing A Vegetable Garden From The Ground Up

Available in print or ebook from Amazon.com or other retailers, this book walks you from choosing the site of your garden all the way through what to do after the harvest. Buy a copy for yourself or a friend today!
---