Growing bulbs is not hard.  It just requires some advance planning.  Thinking of plants that flower in February and March while the temperature is over 100 degrees F requires an adjustment.  Still, bulbs are planted in the fall so they can grow roots, then go dormant, before flowering in the spring.
The first step is to decide what type of bulbs you want to plant.  When people think of bulbs, they often think of tulips.  There are many other kinds of bulbs, such as daffodils, crocus, and hyacinths.  What you can plant depends on where you live and what type of soil you have.  There are varieties of bulbs for almost every location.
You also need to consider color.  Contrasting colors look nice together.  You can also plant so that you have snowdrops blooming, then about the time they are done, crocus, and so on through the season.  That way you have different colors at different times but always have something flowering.
Now that you know what you want to plant, and in what colors, you need to purchase them.  If you are like me, you get inundated with bulb catalogs several weeks before planting time.  You see big box stores pushing their bulbs, too.  Where do you buy your bulbs?  Remember that the same axiom about cheap seeds being expensive applies to bulbs.  Buy from a local nursery or a reputable mail house.  Cut rate bulbs give cut rate flowers, or fail to survive and grow at all.
Bulbs are planted in late September and early October in Texas.  They can be planted as late as January if necessary, but need special treatment to flower.  More on that in a moment.  You can plant bulbs individually or in a large pit with a bunch of other bulbs.  If you want to precisely place each plant, then you will have to do it individually.  Those bulb planters they sell will shatter when used on clay or rocky soil.  Unless you have sandy loam or sand, a shovel is your best bet.
That is what makes pit planting so attractive.  You dig a trench or shallow pit and put the big bulbs, like tulips and daffodils in, then put the smaller bulbs on top, making a layered stack from big to small.  Bulbs should be planted two or three times as deep as they are long.  Finally, you layer dirt over the pile.  Then plant pansies or violas on top.  In the spring, the bulbs will all grow up together through the pansies or violas and bloom in succession, making a wonderful mix of color and greenery.
What happens if you didn't get your bulbs planted in the fall?  Are you forced to wait another year?  No, with some qualifications.  You can take bulbs and put them in the refrigerator (NOT the freezer) for several weeks and plant them and they may bloom.  Otherwise, they will grow and then, depending on the variety, come back next year.  However, if you really want pretty blooms and healthy plants, you will do it the way described in this article.
With a little advance planning and some work, you can have a beautiful display of spring color.  Time to get to work.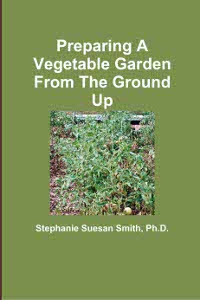 For more help gardening, buy my book, Preparing A Vegetable Garden From The Ground Up

Available in print or ebook from Amazon.com or other retailers, this book walks you from choosing the site of your garden all the way through what to do after the harvest. Buy a copy for yourself or a friend today!
---