Ever tried to read a user manual and given up in disgust?  It was too technical, or didn't make sense.  Sometimes guides to social media are that way, too.  Or they contain so much information that you get overwhelmed.  It doesn't have to be that way.
I have started a series of what I call Popcorn Books:  Bite Sized Guides to the Universe™.  They are small pamphlets that contain just the information you need on the subject at hand.  No extra stuff to confuse you.
The first of these was written to help my Mother's friends who write books, but do not necessarily use computers for other things.  It is called How to Use Social Media to Make Your Blog Work Harder
. Getting your blog on Kindle, an Amazon author page, a Goodreads author page, Facebook and Twitter are covered. This pamphlet is only 99 cents at Amazon.com.
What if you do not have a Twitter account? You are in luck. I wrote a pamphlet on How to Set Up A Twitter Account
. It covers establishing an account and making a nice looking profile page. You not only want a twitter account, you want to look like you know what you are doing and drive traffic to your webpage and mailing list.
What other topics would you like to see Bite Sized Guides to the Universe tackle? What are you having trouble mastering?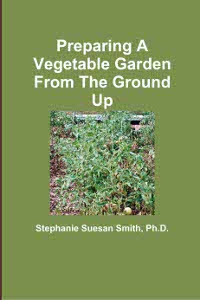 For more help gardening, buy my book, Preparing A Vegetable Garden From The Ground Up

Available in print or ebook from Amazon.com or other retailers, this book walks you from choosing the site of your garden all the way through what to do after the harvest. Buy a copy for yourself or a friend today!
---