This post is going to be a bit longer than most because I am reviewing Corel Paint it!, and am including pictures to illustrate how it works.
The blurb:
Corel Paint it! takes your favorite photo memories and magically transforms them into unique paintings, right before your eyes.  Simply choose a painting style and press start.  Then add fun effects to make it truly yours.  Save, print, frame or share your art creations.
The random brushstrokes of Corel Paint it! let you produce distinct artwork every time.  No two pieces will be exactly alike!  The result is always a unique, hand-painted portrait that's sure to wow your friends and family.
In addition to eleven preset styles, there are a variety of brushes you can use to create special effects.  The software is compatible with Corel Paintshop Photo, iPhoto, and other photo editing software.
the test:
I tested this software on two photographs I had taken of a Purple Bearded Iris.  One photograph was simple — just one flower.  One was complex — a field of Iris interspersed with trees.
These were the original photographs I used for each test.
Oil –– this is supposed to mimic an oil painting by using short dabs and longer brushstrokes.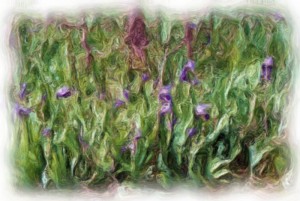 The single iris looks beautiful.  In fact, it looks a lot like the photo and I wondered if it didn't keep a lot of that.  The field of iris look very "Starry, starry night" instead of like a field of iris.
Then we have the impressionist.    This is supposed to create the illusion of movement and light.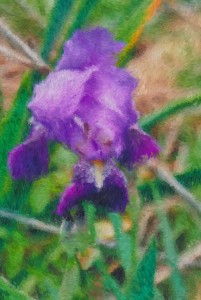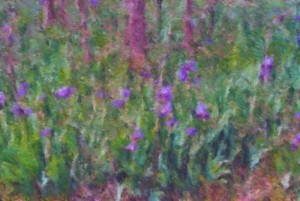 This actually did pretty well on both the single iris and the field of iris.
The modern did nicely for the single iris.  The field of iris is definately abstract, which is what the modern version is supposed to be.
The illustration is supposed to be an illustration type painting.  This is more my style of painting.
The detailed watercolor is also nice looking.
Watercolor sketch is less detailed, more of a note to the artist to create a more detailed painting from later.
The colored pencil is not my favorite.
Pencil didn't work so well
pen and ink was worse
The last option is pastel — as if drawn with colored pastels
So, the verdict is that most of it looks an awful lot like a photograph anyway and the pencil and pen and ink don't work well.  Some of it is pretty however.  I had hoped to use it to turn my photographs into paintings to sell, but it is not doing a good enough job for me to do that.
You will have to judge for yourself whether it is worth your time and money.  The time per photo was about five minutes.  The product is between $25 and $40, depending on where you buy it.    What do you think?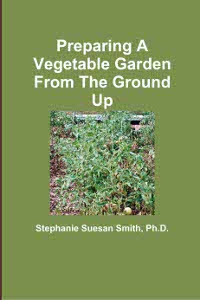 For more help gardening, buy my book, Preparing A Vegetable Garden From The Ground Up

Available in print or ebook from Amazon.com or other retailers, this book walks you from choosing the site of your garden all the way through what to do after the harvest. Buy a copy for yourself or a friend today!
---