I mentioned in a previous post that CSN stores was giving me a $40 gift certificate so I could pick something out, obtain it, and review the experience.  It was a hard choice.  They have lights, furniture, home decor, pet items, and more throughout their over 200 stores.  I finally settled on the Brinkmann Go Grill Charcoal Grill .
I was impressed.  CSN gives free shipping in most cases if you order at least $25 worth of stuff.  I placed my order on a Thursday and had my item the next Monday.  It came UPS.    The grill was complete except for putting the handles on.  This was easily accomplished.  I read the instructions and the handles went on without a hitch.  The only tool it took was a blade screw driver.
I put some charcoal in the grill and set it on the porch.  The instructions warned against putting it on wood decking without a grilling pad underneath, but I did not have any place else to try it.  The grass here is really dry.  Do as the instructions say and not as I did.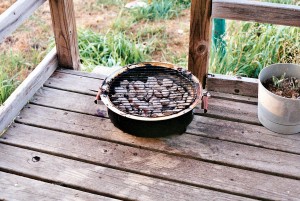 One thing I did wrong was put too much charcoal in the grill.  I filled it up.  That made for a very hot grill, and I had blackened pork ribs without intending to do so.  However, they were just a little crispy and still tasted good.
After the coals are out good, the ash pan lifts out and can be emptied into a trash bag or other appropriate receptacle.  The instructions say soak the coals for 24 hours in water before doing this, just to make sure everything is really out.  I used Weber grill spray on the grill grate where the food went prior to grilling so stuff didn't stick to the grill.  Cleanup was much easier than usual.
This little grill is designed for tail gating, camping, and other places where hauling a big grill is just too much trouble.  I could easily cook enough for several meals for one on it at once.  A large family might strain the capacity, and it definitely is too small for a party.  It seems durable, however, and works just great for me.
FCC Disclosure:  My thanks to CSN who provided the gift certificate for me to obtain this item and review it.  I received no other compensation and my opinions are my own.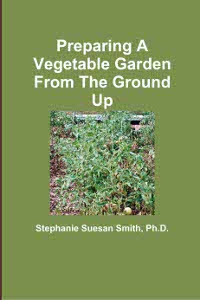 For more help gardening, buy my book, Preparing A Vegetable Garden From The Ground Up

Available in print or ebook from Amazon.com or other retailers, this book walks you from choosing the site of your garden all the way through what to do after the harvest. Buy a copy for yourself or a friend today!
---