In Texas, there is a record number of counties experiencing drought. Watering restrictions started very early this year and the airwaves have been filled with pleas to conserve water. The high winds blow dirt and debris everywhere for days on end. Some of that dirt may be your topsoil. Protect your garden patch or lose your carefully enriched soil to the drought and wind.The dustbowl is in the memories of people throughout our region.  Drought and fields plowed but unplanted conspired with the wind to blow topsoil away forever.  There are some things you can do to prevent your garden patch from repeating history.
water the area — not good because it wastes water, so forget this one
plant drought tolerant cover crops that can be plowed  under right before planting.  This has the added benefit of adding green manure to the garden.
mulch the garden — this is the best thing to do because the mulch holds in the moisture and the soil.  You have only to move it from where you are planting each season.
This drought will get worse before it gets better.  We do not get a lot of rain until September or October, so make sure you protect your topsoil.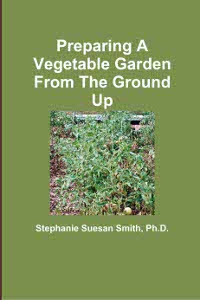 For more help gardening, buy my book, Preparing A Vegetable Garden From The Ground Up

Available in print or ebook from Amazon.com or other retailers, this book walks you from choosing the site of your garden all the way through what to do after the harvest. Buy a copy for yourself or a friend today!
---