I do not know if the drought has broken, but it has rained about three inches at my house this weekend.  Instead of the usual drought to flood, it has come down in slow, soaking rain that the land can absorb.  We are still desperately dry, so water conservation must continue, but at least the plants and animals get a break from the dryness of the drought.
Make sure you factor in the rain when water your plants.  This week, if you got an inch rain or more, don't water at all.  If you got less than an inch, just water enough to make up that amount.  Too much water is not only wasteful, it hurts your plants.  Plants need oxygen in their roots as well as water, so don't drown them.
Enjoy the rain, if you get any.  I never thought the sound of rain on a roof would be as wonderful as it is after a long drought.  I can't imagine the horror of going years without that sound, as some did in past droughts.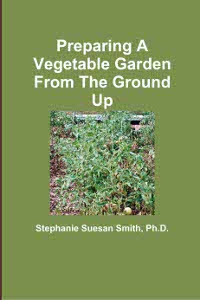 For more help gardening, buy my book, Preparing A Vegetable Garden From The Ground Up

Available in print or ebook from Amazon.com or other retailers, this book walks you from choosing the site of your garden all the way through what to do after the harvest. Buy a copy for yourself or a friend today!
---