Today I am finishing my discussion of erosion control as a means of habitat restoration. The last two points the Texas Parks and Wildlife Department recognize as erosion control are dike and levee construction and management and water diversion. Wars have been fought over these two items in the arid regions of the United States, or other places for that matter.
In Texas, we have the right of capture on our land. In other words, if a creek or stream is running down through our pasture, we have the right to take as much water from it as we want, even if that means the people downstream do without. This right started a lot of range wars and can still start protracted legal battles. Oil companies pump billions of gallons of water into oil wells to replace the oil they are taking out, and that water often comes from lakes and municipal water sources. When everyone is under drought restrictions and the lakes start to dry up, that is not too popular. Of course, a lot the oil companies do is not too popular.
At the same time, building a dike or levee to channel water into a pond, or keep it from flooding other parts of the land, is sometimes necessary. Once built, those structures have to be maintained. This is where Texas laws get murky. Technically, the dike or levee is the responsibility of the land owner. However, those things are very expensive to maintain. What happens when the land owner decides he or she cannot maintain it? Or even decides to breach it? This is especially problematic if the land downstream has been subdivided and houses built in the floodplain. Sometimes the dike fails and floods those houses, or the dike threatens to fail and there is a major fight over who pays for the repairs. Lots of lawyers get rich off of these kinds of battles, but no one else does.
Water diversion is just what it sounds like, changing the course of the water drainage. Sometimes it is temporary, such as flooding fields so waterfowl can nest and raise their young. Sometimes it is permanent, to establish year round wetlands. Maybe they had been drained years ago, or maybe they are being built to mitigate the damage to the environment caused by building a shopping mall or something.
Water is life everywhere. In places prone to alternating floods and drought, that is especially true. Be sure to conserve water whenever possible. There is not enough anywhere to waste.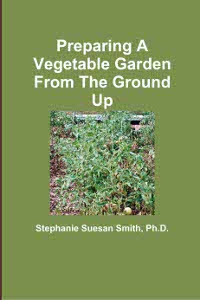 For more help gardening, buy my book, Preparing A Vegetable Garden From The Ground Up

Available in print or ebook from Amazon.com or other retailers, this book walks you from choosing the site of your garden all the way through what to do after the harvest. Buy a copy for yourself or a friend today!
---