What happens when a plant dies from a disease?  After removing the dead plant, what do you do?  Well, first, do not compost diseased plants.  Put them in the trash and dispose of them.  You do not want to chance spreading disease all over your home.
The next part, replacing the plant, hinges on the identity of the disease that took the plant in the first time.  In general, it is not wise to replace the deceased plant with another one just like it.  The second plant stands a good chance of dying from the same disease the first did.
Sometimes, as in the case of cotton root rot, there are a large number of plants that are susceptible to that disease and only a few that can resist.  In this case, you may have to leave that spot bare.  Or change your landscape plans to incorporate a resistant plant.  Sometimes all plants of a particular species are effected, such as rose rosette disease.  Then you must not plant that species there again.
In other cases, replacement may merely mean using a cultivar resistant to the specific problem you have identified, such as fire blight.  This is a much easier situation to deal with.
Finally, in some cases it is not a disease at all, but another factor mimicking a disease.  For example, a friend has a gas line that had a seep leak along the ground where it ran.  The gas penetrated the ground and killed a bunch of oak trees in a manner that suggested oak wilt.  When the leak was fixed, so was the problem.  New trees will likely survive there because the gas is gone.
So, when a plant dies, make sure you find out why.  Sometimes the answer is obvious, sometimes it is harder to identify.  But the reason your plant dies has major implications for how you handle replacing it.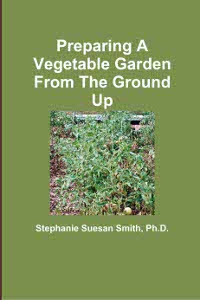 For more help gardening, buy my book, Preparing A Vegetable Garden From The Ground Up

Available in print or ebook from Amazon.com or other retailers, this book walks you from choosing the site of your garden all the way through what to do after the harvest. Buy a copy for yourself or a friend today!
---