Many people want to know how to kill various weeds in their lawn. If the lawn is Bermuda grass, you can use a product containing 2,4,D to kill all the broad leaf weeds in the lawn. Most of the weed and fertilizer type products contain this herbicide.
If, however, you have Saint Augustine grass, you are out of luck. Anything that will kill the broad leaf plants will kill the Saint Augustine. I saw a very clear example of this during my recent trip to see my parents. We were driving through a residential neighborhood filled with nice homes. House after house had a lush lawn. Suddenly, there was a house where every blade of grass was deader than a doornail. It was obvious they had liberally applied a weed and fertilizer product to their Saint Augustine lawn. I so wanted to take a picture, but because it was someone's house, did not.
Do not let your lawn be a bad example. Stay away from herbicides if you have a Saint Augustine lawn. Instead, fertilize it appropriately, water it an inch a week, and mow frequently. Weeds do not like frequent mowing. The fertilizer and water will help the grass grow and choke out the weeds.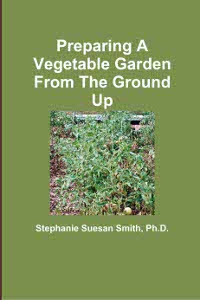 For more help gardening, buy my book, Preparing A Vegetable Garden From The Ground Up

Available in print or ebook from Amazon.com or other retailers, this book walks you from choosing the site of your garden all the way through what to do after the harvest. Buy a copy for yourself or a friend today!
---