I am seeking other garden bloggers to collaborate with.  What, exactly, do I mean by that?  First, we would use the benchmarks discussed by Gail in her post Blogging Collaborations Process: Benchmarking.  These are the normal things such as page views and unique visitors, facebook fans and twitter followers.
After we have a baseline, we work together to improve.  Using our keywords and anchor text, we comment on each other's posts, when appropriate.  We mention each other's blog using the same keywords and anchor text, again when appropriate.  As we learn more about blogging, each member of the team shares new things they learned, things that work and things that do not, and just the pleasure of having people who are interested in the same things to run things by.
In other words, this becomes not only a way to improve rankings in the search engines and increase your mailing list, it becomes a support network. Lots of other niche bloggers do this, but garden bloggers are not as prone to for some reason.  Maybe we are just more solitary, but there is strength in numbers.  The ideal group is about five people, but you can end up with many groups of five bloggers that generally work together.
If you are interested in collaborating, send me an email at stephaniesuesansmith@gmail.com with "garden collaboration" in the subject line (so it doesn't get over looked) and we can talk.  I look forward to meeting you.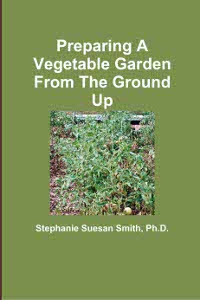 For more help gardening, buy my book, Preparing A Vegetable Garden From The Ground Up

Available in print or ebook from Amazon.com or other retailers, this book walks you from choosing the site of your garden all the way through what to do after the harvest. Buy a copy for yourself or a friend today!
---