I saw the skunk that lives near the mobile home today.  She was hurrying home as if she was going, "I'm late, I'm late for a very important date."  I got the camera and went out to try for a picture, but she had gone in her hole and that was that.  I would prefer she find another place to live, but have not made a serious attempt to evict her.  I am not sure exactly where her burrow is.  Most of the time, I do not know she is there.  Occasionally, she gets in a fight with the possum and it smells for a few days, but that doesn't happen often.
Skunks are generally beneficial, body odor aside.  They eat insects, grubs, small rodents, snakes, frogs, mushrooms, berries and fruit.  They will also eat pet food, garbage, and your vegetables.  The major problem with skunks is that they catch rabies very easily.  This means they are likely to bite a pet, child, or adult when sick.
If you see a skunk during the daytime, especially if it is wandering aimlessly, you need to alert animal control.  The skunk is probably rabid.  Sometimes rabies will make an animal aggressive and attack anything that moves.My skunk was hurrying purposefully, so I am not too worried about her.  I do dislike having an unvaccinated rabies vector near the house, though.  There is no approved vaccine for skunks.  Sometimes people try to make pets out of them.  They have the scent glands removed and use cat vaccinations for rabies.  In Texas and most other states, this is illegal.  There is just too great a chance of the skunk getting rabies.
A few years ago, a rabid skunk climbed into the pen of a pig in my barn.  It attacked the pig, who killed it and ate part of it.  The pig had to be destroyed.  Even though my dogs had not been anywhere near the pig or skunk, they had to get a rabies booster within 72 hours of the incident.  They were then quarantined for 45 days and could not leave my property, and could leave the house only to go to the bathroom.  Rabies is serious stuff.
So, how do you prevent skunks in the garden?  The usual things:  remove food sources, shelter, and, if necessary, trap them.  Pick up pet food and garbage.  Make sure you feed outside pets first thing in the morning and pick up all left over food before dark each day.  Be certain the garbage is in a can with a tight lid and that it is collected regularly.  If you have firewood stacked nearby, make sure the stack is tight and there are no spaces that might shelter an animal.  Trim your hedges up so they do not form shelter for skunks to hide during the day.  Find and close off any potential openings in sheds, barns, and other outbuildings.  Skunks can squeeze into very small openings, so everything has to be sealed tight.  Use 1/4 inch mesh hardware cloth to seal openings.  This will also exclude possums, mice, and rats if done well.  If possible, put a fence around the garden of welded wire that is five feet high.  That will also help keep out possums.
If the skunks have already taken up residence under your building or in your building, it is best to get professional help.  You do not want a skunk to spray under your house while you are trying to evict him.  If there are babies, just waiting until the skunk is gone and closing off the entrance will not work, either.  In some counties, the county trapper will assist you in removing the animals.  In others, especially urban areas, you are going to have to hire a pest control professional to get them taken care of.  It is legal in most rural areas to shoot the skunk, but again, it will discharge the spray when it dies.
If you or a pet gets sprayed, forget the tomato juice.  In a bucket, mix 1 qt 3% hydrogen peroxide, 1/4 cup baking soda, and 1 teaspoon liquid dishwashing soap (Dawn is supposed to work good).  Sponge this mixture over the area sprayed, being careful not to get it in the eyes.  This oxidizes the sulfuric acid in the skunk spray and eliminates the odor.  For severe sprays, rinse and repeat.  One thing about this mixture — it produces oxygen so must be used immediately.  Never mix it in a closed container as it will cause an explosion.  Any leftover solution should be diluted with water and poured down the drain.
Skunks are beneficial animals when they live out in the pasture or woodlot.  They become a problem when they get up to dwellings.  Do everything you can to make sure your dwellings do not offer them food or shelter and everyone will be happier.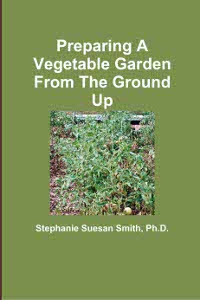 For more help gardening, buy my book, Preparing A Vegetable Garden From The Ground Up

Available in print or ebook from Amazon.com or other retailers, this book walks you from choosing the site of your garden all the way through what to do after the harvest. Buy a copy for yourself or a friend today!
---