Remember when marketing meant door to door salesman?  Me either, but I do remember being entranced by cable because it had no commercials when it first came out.  It's hard to be a dinosaur.  It isn't necessary, however, to become extinct.  Humans can learn.  Well, some humans.
Take, for instance, the gentleman whose guitar was smashed by United Airlines baggage handlers.  He asked them to pay for it and was treated very rudely.  He made a video about the event, United Breaks Guitars, posted it on YouTube, and sat back as it went viral.  What began as a customer care issue very quickly became a major marketing issue.
Garden Writers do not usually write about smashed baggage.  We do write about food safety scares, tractor recalls, and the poor germination of certain company's seeds.  Companies rise and fall because of their handling of customer care these days.
Actually, this isn't so new.  Bards who traveled from place to place in Europe delivering songs and news would make up snarky songs about any person or place that treated them badly.  The songs would be taken up by other bards until the whole known world knew about the ill deeds.  Social media is just faster, but no less difficult to stamp out once bad press begins.
Customer service has tended to exist in its' little world, and marketing in its' little world, with no interaction between them.  It has  become apparent from social media that both not only have data the other group needs, but the actions of one group can set off an earthquake for the other group.  Working together will help everyone, including the customer.
Figuring out this brave new world can be somewhat daunting, particularly for people with lots of other things they have to get done.  A conference called C3:  The Collision of Marketing and Customer Care, can help.  It is in San Francisco on February 2-3, 2011. Speakers include:
Michael Becker
North America Managing Director, Mobile Marketing Association
Pete Blackshaw
Executive Vice President of Digital Strategic Services, NM Incite
John Busby
Vice President of Advertising Platforms, Marchex
Chris Carfi
Vice President Digital Edelman Silicon Valley
Timothy P. Christin
Senior Vice President, Acxiom
Barbara Coll
CEO, WebMama
Tom Cotney
President & CEO, Air2Web
Craig Donato
CEO & Founder, Oodle
Perry Evans
Founder and CEO, Closely, Inc.
Paul Gilliham
Director of Customer Marketing, Lithium Technologies
Simon Hayhurst
Senior Vice President of Promote Marketing, Autonomy
John Hernandez
Vice President/General Manager Customer Collaboration Business, Cisco
Auren Hoffman
CEO, Rapleaf
Tatyana Kanzaveli
CEO, Social CRM World (SCRM)
Dev Khare
Vice President, Venrock
Brendan King
CEO, VendAsta Technologies
Wendy Lea
CEO, Get Satisfaction
Eric LeBow
VP of Professional Services, Spanlink Communications
Jules Maltz
Principal, Institutional Venture Partners (IVP)
Tim Moynihan
Vice President of Marketing, Empirix
Barry Paperno
Consumer Affairs Manager, FICO (Fair Isaac Corporation)
Dr. Natalie Petouhoff
Chief Strategist Digital Communications Group, Weber Shandwick
Mark Plakias
Vice-President of Strategy at Orange Labs
Paul Price
Chief Executive Officer, Creative Realities
Sebastien Provencher
VP of Product Management, Praized Media
Philip Soffer
VP, Product Marketing, Lithium Technologies
Michael Yang
Managing Director, Comcast Interactive Capital
As one of the many content provider groups who now make up social media, Garden Writers and other writers have an interest in how our writing is used.  We need to understand how customer care can impact our marketing, reviews, blog posts, and other actions.  If we do not keep up, we will become obsolete and go the way of the dinosaur.  Contact C3 today and keep digging, pruning, and planting.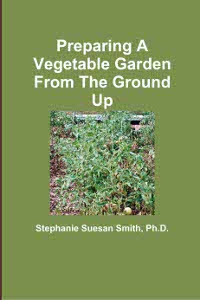 For more help gardening, buy my book, "Preparing a Vegetable Garden From the Ground Up." Available in print
or eBook, this book walks you from choosing the site of your garden all the way through what to do after the harvest. Buy a copy for yourself or a friend today!
---