Are your squash growing 2-3 inches, then getting a rotten spot on the tip and rotting out?  Or do they just shrivel up and fall off?
The Problem:
If so, you probably have a pollination problem.  It is not uncommon to have problems with pollination in squash, especially now that bees are having problems.  Since they were the chief pollinators, lots of plants just are not getting pollinated.
The Solution:
There is hope, however. The solution is two-fold.  First, squash are easily hand pollinated.  The female flowers have a tiny squash behind them.  The inside of the flower has a single stalk looking thing called the stigma, which has a sticky tip.  The pollen sticks to this and fertilizes the flower, making the squash grow properly.
Male flowers have several straight stalks, called antlers, inside that look like cotton swabs dipped in pollen.  The easiest way to pollinate the females is to pluck the male flowers, gently so the pollen isn't shaken off, peel back the petals, and nuzzle the antlers over the stigma of the female flower.
A male flower can pollinate three female flowers in this manner.  Squash flowers usually open in the morning and last one day.  That means that you should go out every morning and pollinate your new squash flowers.  This gets to be a burden, especially if you have a lot of squash.
Part two of fixing the squash pollination problem is companion planting.  In this case, you should plant something around your rows of squash, and in them if you have room, that bees love.  That will draw any in the area and they are likely to pollinate your squash at the same time.  Bee Balm, sweet allysum, and several other plants work.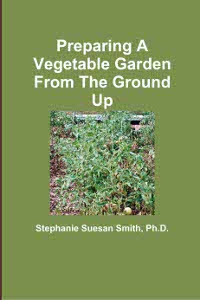 For more help gardening, buy my book, Preparing A Vegetable Garden From The Ground Up

Available in print or ebook from Amazon.com or other retailers, this book walks you from choosing the site of your garden all the way through what to do after the harvest. Buy a copy for yourself or a friend today!
---