I just tried to sign up for a service that matched consumers looking for arts and crafts with master craftsmen.  The sign-up form rejected my email address and web address as invalid.  I went to their "contact" page and encountered a form that did the very same thing.  There is no telephone number or other way to contact them, so I will not be using their services.
This made me more aware than ever that it is important to have multiple ways to contact you on your webpage so that if one way goes down, someone can reach you and make you aware of the problem.  You may not want to post your phone number, but you should have an email address and some other means of communication.  That may be Facebook or Twitter, or it may be a phone number.
Of course, if this is a hobby, contact information is not as important.  But if it is a business, you need to be reachable if your contact form on your website goes haywire, or your email starts lobbing your mail back at the sender.  Remember the principle that should govern a consumer's visit to you:  Don't Make Me Think.  Obviously, your posts are designed to make people think, but getting around your site and contacting you should not take an advanced degree in computer science.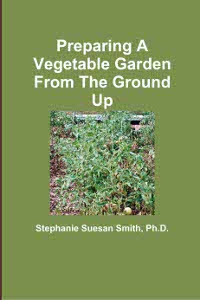 For more help gardening, buy my book, Preparing A Vegetable Garden From The Ground Up

Available in print or ebook from Amazon.com or other retailers, this book walks you from choosing the site of your garden all the way through what to do after the harvest. Buy a copy for yourself or a friend today!
---