It is no secret that most of the United States is gripped by the worst drought since 1918 or so.  High temperatures and low relative humidity are also a problem.  Now add wildfire to the equation and you have a truly scary situation.  This is even worse when you smell the smoke and hear the sirens of the fire trucks racing to the fires.
Around here, all the ponds are dry or so close that water cannot be drawn from them.  Yesterday afternoon there were five fires within about ten miles of my farm.  They were set on backroads only locals frequent and they taxed an already strained volunteer fire force to the limit.  Without adequate water, the firefighters had to make the difficult decision to let some pasture and brushland burn so they could protect structures.
While there were no deaths, and minimal injuries, some structures were lost and hundreds of acres were burned.  Fighting the fires when it was 106 and they were wearing the heavy turnout coats was very dangerous for the firefighters.  Unfortunately, more fires will continue from natural and unnatural causes until at least October, when our rainy season starts.
Having a wild fire that close becomes a values clarification exercise, too.  Packing evacuation bags and deciding what would go in the limited space of the truck, and what would have to be left to take a chance on burning makes you look at what is important.  Bottom line:  the dogs and I go.  Everything else is space available.
Since floods, tornadoes, hurricanes, and many other disasters, natural and man made, make it necessary to think about this, it is worth making a list of things, in order of importance, to pack when evacuating.  The need to do so is still scary, but at least you will have a blueprint to follow instead of randomly tossing things in the car.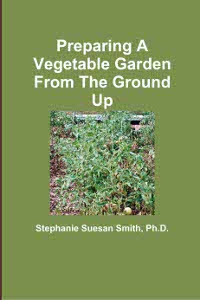 For more help gardening, buy my book, Preparing A Vegetable Garden From The Ground Up

Available in print or ebook from Amazon.com or other retailers, this book walks you from choosing the site of your garden all the way through what to do after the harvest. Buy a copy for yourself or a friend today!
---